Oil demand to outstrip supply if producers abandon expansions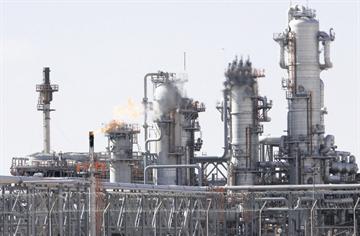 Oil demand is likely to outstrip supply in a "not-so-distant" future, Markaz a Kuwait based investments and assets management company has said in its report.

Markaz cited "a slowdown in investments [in capacity expansion] due to a lower price scenario" and the credit crisis as the reasons behind the slowdown in investments.

"Our view on the oil prices is based on our fundamental belief that oil demand is likely to outstrip supply infrastructure additions [irrespective of the amount of reserves in he ground] in the medium to long term," Markaz said.

The report comes close on the heels of Abu Dhabi Company for Onshore Operations (Adco) awarding of a contract worth $3.5 billion (Dh12.8bn) to three companies to increase production in its fields. It also follows recent statements in the media by oil analysts Saudi Arabia will not put its capacity expansion projects on the backburner.

Apparently, inventories of oil have built up in both the United States and China – two most-influential oil consumers. State firms Sinopec and PetroChina are estimated to have held up to 50 million barrels of gas oil and 25 million barrels of gasoline into December – double the levels of the Olympic games in August. Reflecting the high volatility in the oil markets, the company put a $30 range in the expected prices of oil in the first and second halves of 2009. "We forecast oil prices to average $35 to $60 per barrel in H1 2009 and $45 to $75 per barrel in H2 2009," Markaz said.

The Kuwaiti company cited the built up contango of oil prices as a reflection of expected high oil prices. "We observe that currently there is a sharp contango in oil prices, which also indicate market expansion of higher prices than what we are currently seeing," it said in its 22-page report.

Prevailing low spot prices have had coerced many oil dealers to buy and hoard oil, Markaz said. "Many traders are rushing to take advantage of the sharp correction by using crude tankers as a medium to store oil on the sea, rather than transport. With roughly 500 very large crude carriers in the world fleet, it is estimated that about four to five per cent of the VLCC fleet is being used as a storage with expectations of a few more VLCCs being chartered for storage in the next few weeks."

Markaz said with spot crude trading at around $40 (a barrel) and the Nymex six months future prices of $53, a trader can take deliver of crude today, "sit on it for the next months" and potentially make a more than 20 per cent return.

Taking a closer focus on the GCC states, Markaz said oil production per capita and reserves per capita have declined in case of most of the GCC states. Saudi Arabia remains the producer that can swing the markets.

"Spare capacity is almost concentrated single handedly in the hands of Saudi Arabia," Markaz said.

Markaz said that there was a 50 per cent chance of oil prices averaging between $30 and $50 in the first half of 2009; and, a 41 per cent chance of oil prices averaging between $50 and $100.

Energy analysts in Dubai echoed similar comments. "We expect the prices to cross the $50 a barrel hurdle soon but the increasing inventories in the US and China may derail the plans. We expect the prices to cross the $75 a barrel in the last quarter of 2009," a Dubai International Financial Centre-based energy analyst said.
Follow Emirates 24|7 on Google News.