Oil nationalism hit after crude prices plunge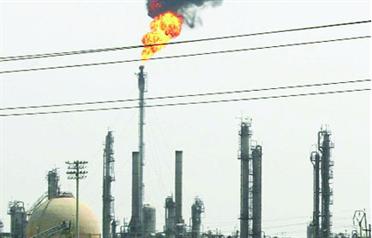 The price weakness of the 1990s, which culminated in a drop to around $10 a barrel in 1998, provided the context for deals on ultimately untenable terms. They were torn up when rising prices shifted the balance of power back to state firms.
Oil at around $40 now, down from a record near $150 last July, is more likely to help build bridges between state companies and foreign firms than to spur bargain-basement deals.
"Nobody really thinks we are going to stay low... We'll only see a change in behaviour when that expectation is not there," said Andy Brogan, an oil and gas specialist at Ernst and Young.
"That said, around the edges we are seeing a bit of a softening. Certainly, we are not seeing a wholesale change in attitude," added Brogan, who is in contact with national and international oil firms, as well as governments.
Sources at big oil companies also said much would depend on how long prices stayed weak, which depended in turn on the extent of the global economic weakness. But the bottom line was those sitting on resources had power even in a buyers' market.
"If you are a resource-owner, the terms you are willing to consider may change," said one oil company source.
"But no matter what the price of the oil and gas, it does not change the physical location. If you are the resource-owner, you are still the resource-owner."
Just as the international oil companies are waiting to see how long the downturn and its consequences will last, some resource-holders say it is far too soon to consider more generous terms.
"Talking about better terms is thinking the unthinkable," said Shokri Ghanem, head of Libya's National Oil Corporation  (NOC). "It is too early to do anything. This is a crisis that will pass."
In Libya, home to Africa's biggest oil reserves, oil firms have lined up for deals after years of sanctions, while Libya has adopted an increasingly tough negotiating stance.
French oil major Total has agreed to halve its 75 per cent stake in two Libyan oil blocks as part of a contract renewal with the NOC announced this month. A spokesman for Total declined to comment on whether the change was linked to a drive by Tripoli to re-nationalise its oil.
Other companies have said they see no real possibility of re-nationalisation.
Libya still needed international co-operation, they said, when even the arch exponent of resource nationalism Venezuela had toned down its rhetoric as cheaper oil had strained its ambitious social spending plans and added to its debts.
Only last year, Venezuela broke off commercial ties and halted the supply of crude and petroleum assets to Exxon Mobil Corp in a fight over Exxon's demand for compensation after President Hugo Chavez seized a crude project.
Now Chavez is courting global oil companies to develop costly and complex tar-like reserves in the Orinoco belt.
Another fierce nationalist has been Russia, where the Pacific island of Sakhalin became symbolic of the Kremlin's drive to reassert control over its natural resources.
Royal Dutch Shell was forced to cede control of the Sakhalin II liquefied natural gas project in 2007 to the state-controlled Gazprom. Shell was stung by Russia's action, but in an interview on the island this week, its CEO Jeroen van der Veer said the company was willing to discuss more projects with the Russian gas monopoly and possibly with other national firms.
"If you look at our history, we have many partnerships with NOCs, not only Gazprom," he said.
Russia might well be more willing to listen, but its first deals in challenging times have been with China.
Crucially, China has abundant cash. It also has a huge demand for energy and its own national oil company – which needs reserves rather than has them to spare – is able to take a longer view than oil majors answerable to shareholders.
"The resource-seeking NOCs have the ability to take a very long-term view. China is taking a 20-year view," Brogan said.
China earlier this week signed a deal to lend Russian oil companies $25 billion (Dh91.7bn) in return for supplies for 20 years from East Siberian oilfields.
Long in the making, the deal was facilitated, analysts said, by financial crisis that has humbled Russia. 
Oil price likely to fall
Crude oil futures may decline on speculation that US inventories will be sufficient to meet demand from refineries.
Fifteen of 35 analysts surveyed by Bloomberg News, or 43 per cent, said futures will decline through February 27. Eleven respondents, or 31 per cent, forecast oil will increase and nine said that prices will be little changed. Last week, 43 per cent expected prices would fall.
US inventories declined 138,000 barrels to 350.6 million barrels last week, an Energy Department report showed. Supplies were forecast to gain by 3.2 million barrels, according to a Bloomberg News survey. The drop left stockpiles 15 per cent higher than the five-year average, the department said.
Crude oil for March delivery gained $1.43, or 3.8 per cent, to $38.94 a barrel this week on the  Mercantile Exchange.
Follow Emirates 24|7 on Google News.
Resource-rich countries hoping oil will rebound from a $100 crash will not relinquish overnight the power that came with record prices, but ties between international firms and state-run companies have begun to thaw.