Oil prices slump under $33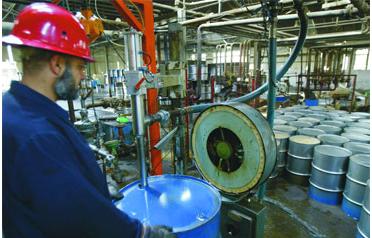 Oil prices slid close to a four-year low under $33 per barrel on Tuesday in a market plagued by weak global demand, analysts said.
New York's main contract, light sweet crude for delivery in February, fell as low as $32.70 a barrel. It later recovered slightly to stand at $33.57, down $2.94.
The February contract expires at the close of trade Tuesday, to be replaced by the March contract currently at $40.27 a barrel.
In London, Brent North Sea crude for March dropped 71 cents to $43.78 a barrel.
A large stockpile of oil in the United States has caused the New York contract to "become disconnected" from the rest of the market, said Victor Shum of Purvin and Gertz international energy consultants.
"The Nymex has been under a lot of pressure because stockpiles in Cushing, Oklahoma, are very high. Storage is almost full," he said. Cushing is the delivery point for light, sweet crude.
Shum added that the higher March Brent price was more representative but said the weak global economy was having a negative impact.
"The global economy is now the main driver of oil... The macroeconomic outlook is bleak, with no signs of a turnaround in the global economy," Shum said.
Meanwhile the inauguration of Barack Obama as US president later Tuesday may have a positive but short-term effect.
"I think any Obama bounce may be short-lived. Equity markets may react positively for a day or two," said Shum.
Support for oil prices has been eliminated by the successful resolution on Monday of a Russia-Ukraine gas dispute and Israel's weekend ceasefire with Hamas in the Gaza Strip, the analyst added.
"Easing of geopolitical concerns and negative sentiment amid fresh banking woes are likely to keep oil prices under pressure until we receive further evidence of Opec's compliance with recent quota cuts," said Sucden Financial analyst Nimit Khamar.
Last week both the Organization of the Petroleum Exporting Countries (Opec) cartel and the International Energy Agency, energy policy adviser to major industrialised countries, lowered their demand forecasts for this year.
Opec, whose member nations together pump about 40 per cent of world crude, would consider further cuts to oil production if prices continued to fall, Algerian Energy Minister Chakib Khelil said Saturday.
Another Opec member, Venezuela, said at the weekend that it was prepared to reduce its oil production in a bid to boost prices.
Follow Emirates 24|7 on Google News.