Oil prices tipped to reach $50 in '09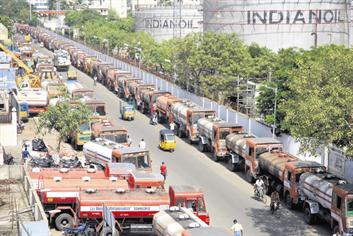 Oil prices could average around $50 (Dh183) a barrel in 2009 but are expected to rebound in 2011 as the world begins to recover from the current financial crisis.

London-based Oxford Economics said higher prices would entice Opec to embark on capacity expansions to meet world demand in the long term and this would push output up to 48 million bpd by 2030.

But Oxford Economics warned that lower investment by Opec could sharply push up crude prices and this could stifle demand and depress the global economy in the long run.

And rapid economic growth in China, India and other emerging markets would be the main factor in driving up crude prices after they collapsed by nearly two thirds between July and November last year.

"In the baseline, oil prices are forecast by the Oxford Model to average around $50 a barrel in 2009 and 2010 in the face of the weak world economic environment, but then to recover gradually from 2011 as global recovery takes hold, reaching $77 by 2015 and over $80 by 2030 in 2008 prices," Oxford Economics said in a study published by the Riyadh-based International Energy Forum (IEF), which groups nearly 100 oil producing and consuming nations.

The study said by 2030, China is expected to be the second largest oil consumer in the world after the USA. It expected global GDP to grow at an average rate of 3.2 per cent per annum from 2008 to 2013, with emerging market economies expanding by around 5.7 per cent per annum.

But the study warned that there is a risk that the combination of volatile oil prices and the impact of the financial crisis on the cost and availability of capital could discourage investments necessary to enable oil supply to satisfy prospective demand.

It presented two scenarios in this respect:

-Lower oil investment in Opec, former Soviet Union (FSU) and Latin America is assumed to reduce global oil supply by around four million bpd compared with the baseline forecast by 2017 and that production remains four million bpd below baseline thereafter.

As a result, oil prices rise by more than $25 by 2030 – to nearly $110 in 2008 prices – as demand has to be reduced in line with the lower supply profile. Higher oil prices in turn hit economic growth in the oil consuming economies, with the level of global GDP $1.5 trillion (more than 1.3 per cent) lower by 2030 than in the baseline forecast.

-Only Opec oil investment is constrained. Specifically, it is assumed that lower investment results in Opec's supply remaining constant at 38m bpd between 2012 and 2017, which would be sufficient to reduce global oil supply by four million bpd if there were no offsetting increases in supply by other oil producers.

"However, in this case, non-Opec producers are allowed within the model to increase their production in response to the increase in oil price that results. Under these assumptions, the oil price rises by less than in the previous case but still reaches nearly $100 by 2030 (2008 prices)," the study said.

"As a result, global GDP by 2030 would be $1.3 trn (nearly 1.2 per cent) lower than in the baseline forecast, while Opec's oil export revenues would be some $45bn a year higher in 2008 prices than the baseline ($225bn less than in the first case)."
Follow Emirates 24|7 on Google News.