Oil prices to decline later this year, says report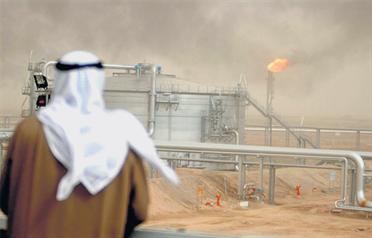 London-based energy centre.
Oil demand largely firmed up in December to prompt stock drawdown in key consumers but such a development was a result of seasonal factors rather than market fundamentals, the Centre for Global Energy Studies (CGES) said in its January oil report, sent to Emirates Business.
The surge in demand towards the end of 2009 was the first year-on-year increase after five quarters of decline, the report said, adding this imparted a positive momentum to the oil market, in spite of high stocks. "However, the return of positive global oil demand growth may not be enough to put upward pressure on oil prices in 2010. December's surge in oil use was enough to ensure that global oil demand in Q4 2009 was above that of Q4 2008, the first year-on-year increase in quarterly oil demand since Q2 2008," said CGES, which is run by former Saudi Oil Minister Sheikh Ahmed Al Yamani. "It also led to the first quarterly stock draw since the winter of 2007-2008, but the impact may prove to be short-lived."
It noted that the return of positive oil demand growth after five consecutive quarters of year-on-year declines could be a welcome change for oil producers, but added that growth remains both weak and fragile.
"The combination of sluggish oil demand growth and rising supply means that there is little prospect of global oil inventories being drawn down this year, unless Opec cuts its crude oil production," the report said.
"Indeed, the CGES expects the Q4 2009 stock draw to be a 'one-off', with inventories rising again in the first quarter of this year and beyond. In the absence of more robust oil demand growth, or a cut in supply, these rising inventories are likely to put oil prices under downward pressure in the second half of the year. Although we do not expect oil prices to fall heavily, the dramatic recovery seen in 2009 may now have run out of steam," it said.
CGES cited the latest World Bank report on 2010 Global Economic Prospects, saying that the worst of the financial crisis may be over but warning that global economic recovery remains fragile and will slow later in the year as the impact of fiscal stimuli in major industrial powers wanes.
"The recent surge in oil demand has been boosted by temporary seasonal factors, driven by extremely cold weather across much of the Northern Hemisphere, which is unlikely to last beyond the end of the first quarter," it said.
"A faltering of the economic recovery later in 2010 could rein in oil demand growth once again. The CGES remains less optimistic than the IEA about the strength of oil demand in 2010 and we believe that whatever growth does materialize will be heavily weighted towards the beginning of the year."
According to CGES, managed by former Opec officials and experts, the return of positive oil demand growth in 2010 may not improve the prospects for an increase in the oil production of the 12-nation Cartel on the grounds supplies from outside Opec have also been rising.
It said Opec's own crude oil production has been "creeping upwards" since last March, when compliance with the current quotas was at its strongest.
"However, the noticeable supply growth is coming from non-Opec producers and from Opec's supply of NGLs and condensates, which lie outside its quota restrictions. By the beginning of 2010, non-Opec oil production was up by around 500,000 barrels per day from the level at the start of 2009," it said.
The report expected that maintaining this level of production throughout the year would boost annual average non-Opec oil production by 350,000 bpd in 2010 compared with 2009. Opec's rising production of NGLs and condensates is expected to add a further 600,000 bpd of supply on average in 2010.
"While some of this may be at risk from project delays, much of it has already been secured. Qatar has inaugurated three new LNG mega-trains since last May and a fourth is now in 'start-up' mode, with two more to begin production later this year," the report said.
"Given that Opec is unlikely to cut output further at such a politically inopportune time, the gap between Opec's output and the call on its crude will lead to the stock build and a price fall that we expect to occur in the second half of 2010."
Follow Emirates 24|7 on Google News.
Slackening oil demand could put downward pressure on crude prices later this year in the absence of fresh Opec output cuts following a rapid improvement in the second half of 2009, according to a