Oil prices to hit $90 by year-end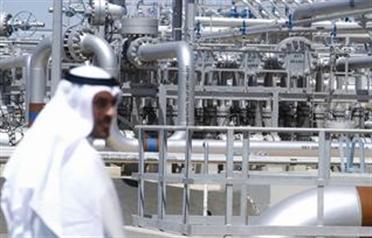 Oil prices will return to normal at a level from $70 to $90 by the end of 2009 with global growth starting to take off in the second quarter of the year, a senior official of Abu Dhabi National Energy Company (Taqa) said.

Taqa CEO Peter Barker-Homek told Emirates Business at the second World Future Energy Summit that global economies will start stablising by the end of the second quarter of this year with the change of the US administration contributing to this development.

He said: "A lot of what happens in 2009 is going to be determined today, when the new administration takes over in Washington, which is focused on not just job creation but also transition of the US to a lower carbon environment. We are going to see some very large shifts in bailout money that is allocated. It will require Detroit to move into electrical and hybrid vehicles.

"We will see coal plants come under greater scrutiny. I think there will be a big push on natural gas as well, because it can provide a lower carbon solution while we transit to a lower carbon environment."

Speaking on the broader world economy, Barker-Homek said growth is already been seen in some places in Australia, Brazil, the Middle East, India and China – "and that is all four to eight per cent growth. That is 60 per cent of the global GDP. What will happen, once year-end earnings are earned all the bad news that has been there will be dealt with", he said.

"By the second quarter of this year, we are going to see growth back. Once the global growth starts to takes off and the economy stabilises, I believe the world can manage oil prices at somewhere from $70 to $90 by end of this year," he explained.

About the current global credit crunch, Taqa CEO said again the second quarter of 2009 will bring some positive changes. "I'm optimistic Q2 of this year will bring good numbers." He said as banks restore confidence in each other, and that comes after year-end numbers are out, the business can see lending take off.

"The good news is that a billion dollar buys a lot more today than last year, and the bad news is that the money has never been less available and that has to do with the complete lack of trust of the global financial system. When you see double rated company that goes down in a weekend, it creates doubt all over the rating system. Who can you do business safely with (under such circumstances)?" he said.

About the slowdown impact on Taqa, Barker-Homek said 52 per cent of the company portfolio is unaffected while 48 per cent is directly correlated to the oil and gas commodity prices. "We have reviewed our capital plans to make sure they are economic at $40 oil and $4 gas, and we are looking at controlling costs – reducing our operating and expenses. We have an extremely flexible balance sheet. Because of flexibility, we are able to reduce cost structure," he explained.

He added financial results of 2008 have not come out yet, but the year is going to be a very good year, because oil was high most of it, so was gas.

On the company investments, he said recently Taqa entered into a joint venture with Sempra Energy of the US for the development of a power plant and will be looking at more power plant joint ventures in North America.

Barker-Homek said: "We are also looking at more power plant joint ventures in the US. In February, we are going to announce another major joint venture, which I cannot disclose at this point. So we have some power assets coming in the near term.

"Assets that we are looking at now are in North America, Europe and in North Africa. We are also going to Iraq next month to look at some power plant projects and then the oil sector."

Barker-Homek said there is good relationship with Central Asia energy sector but Taqa has not explored it for potential investment yet.
Follow Emirates 24|7 on Google News.