Oil prices up on forecasts of weak demand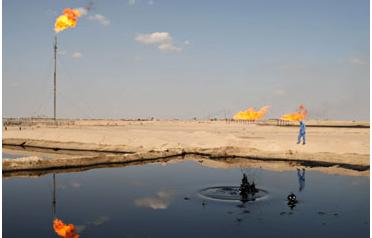 Oil prices rose slightly yesterday with New York crude remaining below $38 a barrel as the market reacted to forecasts of weak energy demand made at the end of last week.

New York's main futures contract, light sweet crude for delivery in March, climbed 24 cents to $37.75 a barrel.

In London, Brent North Sea crude for April delivery gained one cent to $44.82.

"Crude oil futures remain in the broad range, with... (New York crude) looking ready to test the $40 per barrel area again, and Brent futures still holding near the technical support area at $44 per barrel," said Sucden Financial analyst Brenda Sullivan. "Volume is likely to remain light today as US markets are closed."

Trading on the floor of the New York Mercantile Exchange was shut yesterday owing to a public holiday in the US, leaving investors able to trade only electronically.

The price differential between New York crude and Brent oil hit a record of more than $11 last week, which analysts attributed to soaring energy stockpiles in the US.

Meanwhile, last Friday the Opec oil producers cartel trimmed its forecasts for global oil demand, forecasting that it would shrink by 0.67 per cent in 2009 due to "economic depression" in industrialised countries.

Also last week, the International Energy Agency cut its forecast for global oil demand this year, but warned about a future supply crunch because of current low investment levels.

The energy watchdog for industrialised nations forecast that global oil demand would measure 84.7m barrels per day on average in 2009 – 570,000 bpd less than its last forecast made in January.

At this level, demand would be 1.1 per cent or 1.0m bpd less than in 2008, when demand fell compared with the year earlier.

Crude futures also have in recent months slumped from record highs of above $147 a barrel reached last July.
Follow Emirates 24|7 on Google News.