OMV not to shelve any of its Middle East projects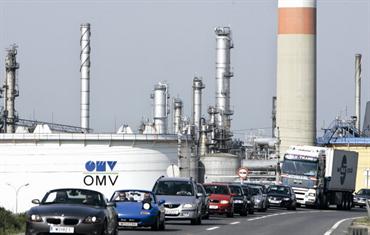 Austrian oil and gas group OMV, which reported a 56 percent fall in underlying operating earnings in the fourth quarter earnings for 2008, said none of its projects in the Middle East will be shelved or dropped.

Abu Dhabi based International Petroleum Investment Company (Ipic) has a 20 per cent stake in the company.

OMV's Middle East concerns include an ethylene cracker project in Abu Dhabi, and oil projects in Iraq and Yemen. "We would go ahead with all our projects in the Middle East. None of them will be shelved," Wolfgang Ruttenstorfer, the company CEO told Emirates Business.

"We are not at all downsizing the ethylene cracker project in Abu Dhabi," Ruttenstorfer said. The OMV CEO said a refinery project in Pakistan in partnership with Ipic is also going ahead.

"We will follow a conservative financial policy this year. We will want to rely on our internal resources for investments this year," he said.

The Austrian national oil company's earnings before interest and tax fell to $385.7 million (Dh1.4 billion) in the last quarter of 2008, OMV said in a statement. OMV said earnings had also been hit by foreign exchange losses at Turkish affiliate Petrol Ofisi and reduced market demand at Borealis.

"For 2009, we expect the main market drivers – crude price, refining margins and the exchange rate – to remain highly volatile," OMV said. The company will pay a dividend of €1 (Dh4.7) for 2008, down from €1.25 the previous year.

The CEO said in December he expected 2009 earnings to fall as the global economic downturn weighs down demand and oil prices fall.

OMV shares have lost over half their value in the last six months, partly on market worries about emerging European exposure.

OMV AG, central Europe's biggest oil company, posted a larger-than-expected loss in the fourth quarter on falling oil prices and predicted output growth this year on start-ups in Austria, Kazakhstan and New Zealand.

The company blamed its losses on a strong decline in oil prices.

The CEO said the new oil and projects world over will still go ahead. "We have completed the restructuring and optimisation of our western refinery operations and are developing several oil and gas fields that will lead to a production growth in 2009," Ruttenstorfer said.
Follow Emirates 24|7 on Google News.