Opec can earn $402bn in revenue this year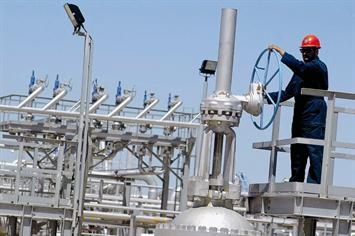 Members of the Organisation of Petroleum Exporting Countries (Opec) could earn $402 billion of net oil export revenues in 2009 and about $530bn in 2010, a US government agency has said in its latest update.

US official energy forecaster Energy Information Administration (EIA) said in its report this would be a 59-per cent drop for Opec from that of last year's revenues.

The fall, in real terms, would mean that Opec could make the same earnings that it made four years earlier in 2004, EIA data showed. Opec's earning in 2008 was a 42-per cent increase from that of 2007.

The report is based on expected spot prices across throughout the year. EIA estimates the average oil price for 2009 at $43.14 a barrel. It expects the price to rise to $55 a barrel in 2010.

"World oil consumption is projected to fall by 1.2m barrels per day in 2009, representing an additional decline of 400,000 barrels from the last month's outlook," the EIA report said.

However, the market is expected to pick up pace in the second half this year. Opec is expected to cut its production again at its March 15 meeting and the move is expected to mitigate some of the slack in oil markets, according to EIA report.

Several other forecasts from institutions such as Standard Chartered, PFC Energy and Morgan Stanley in the recent past have stated oil demand will pick up later this year, thereby leading to higher prices.

The UAE and Saudi Arabia were among the oil revenue earners in 2008 and is expected to share a good section of revenues this year. Even as both these countries are complying to a lions' share of the Opec announced cuts, recent reports say the price of crude oil they export has marginally risen.

"The worsening global economy and a weak oil consumption outlook are keeping oil markets well supplied, despite two downward revisions in production targets by Opec in the past few months," EIA said.

Worried about higher revenues and combating low oil prices, Opec may again resort to production cuts at its next meeting, EIA said. "Lower global oil demand, rising surplus production capacity through at least mid-2009 reduce the possibility for a rebound in prices in that period. Opec is scheduled to meet in next month, which could lead to another production cut to mitigate some of the slack in the market."
Follow Emirates 24|7 on Google News.