Petrol and gasoil markets begin to recover on demand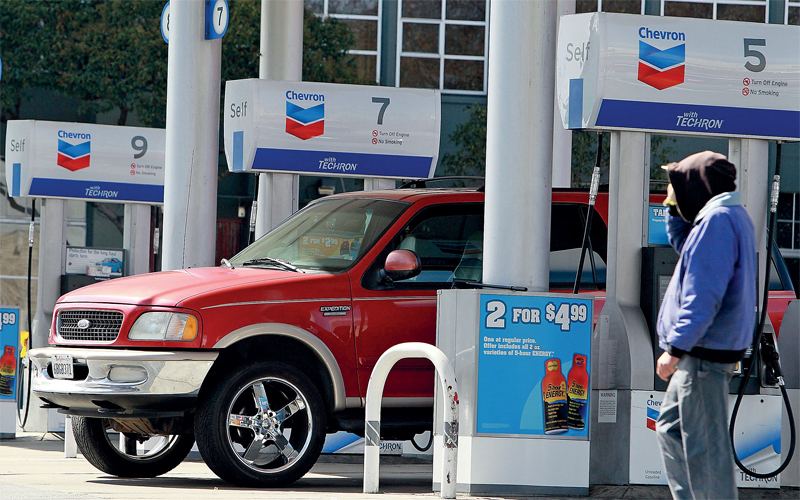 For almost half of 2009 and the first three months of 2010, refineries have suffered due to a dearth in demand for crude products. Analysts now point out that the situation is beginning to change.
The signs of this, says Francisco Blanch, the Global Head of Commodities Research at Bank of America Merrill Lynch, have emerged with the spot prices of these fuels rising beyond the future prices thus leading to a backwardation in the markets. While fuel oil was the only product in demand in the past nine months, the demand for petrol and gasoil has now begun to rise. "For all the hype about the WTI crude oil market potentially moving into backwardation later in the year, European ICE gasoil and NYMEX RBOB petrol markets in the Atlantic Basin have quietly started to price in a premium for immediate delivery," Blanch wrote in his report titled gasoline and gasoil are back.
Blanch pointed out two reasons for the rise in demand for downstream petroleum products. "Our analysis suggests that market leadership has shifted from crude to products in the last year, and that tightening petrol and distillate spreads are causing WTI and Brent timespreads. The shift partly reflects a hefty refinery maintenance season and continued reductions in disadvantaged refining capacity, but also points to an incipient recovery in the US and European oil demand," he said.
It is the advanced economies that are finally showing signs of recovery in demand, Blanch iterated. "Total oil consumption in the United States has now finally turned positive on a yearly basis.
The latest US Department of Energy weekly figures suggest that domestic oil demand expanded by 650 thousand barrels a day or 3.5 per cent year-on-year on the four week moving average. Meanwhile, many forecasters still expect an outright contraction in US oil demand for 2010," Blanch said.
On the other hand, in OECD Europe, despite the reported eight per cent contraction in oil demand in January, GDP growth numbers show an improving outlook, again supporting a stronger refining margin environment, Blanch said.
Distillate cracks will strengthen further as the global economy recovers, he added. He forecast that the US distillate cracks will average $ 11 a barrel for the second half of 2010. "With indicators suggesting continued improvements in global economic activity and industrial production firming up, we reiterate our positive view on Atlantic Basin middle distillates. Thus, we maintain our forecasts that US distillate cracks will average $11 a barrel for the second half of 2010, compared to a current forward of $9.30 a barrel," he said.
"We equally keep our European gasoil crack spread forecast for second half of 2010 of $11.25 a barrel compared to the forward of $9.20 a barrel," Blanch noted. Still, the combination of low refinery utilisation rates and plenty of flexibility to switch yields should limit the risk of a petroleum product price spike in the months ahead."
The views come when the gas producers have been complaining of extremely low spot gas prices. Algerian Energy Minister Chakib Khelil recently asked for a raise in the spot gas prices. The subject is to come up for discussion at the upcoming Gas Exporting Countries Forum (GECF) ministerial meeting in Oran, Algeria.
Refineries across the world typically go for maintenance as this has helped reduce the crude oil stocks, Blanch pointed out. Refining margins have continued to improve steadily during the last few months led by RBOB petrol and gasoil.
"Part of the improvement has come thanks to a hefty refinery maintenance season. The International Energy Agency reported recently that in Europe 1.4 million b/d of capacity was under maintenance in February, with 1.2 million b/d scheduled for March, slightly above last year's levels. All these temporary closures have helped clean up the excess product in the Atlantic Basin," Blanch said.
But more importantly, many refiners are choosing to permanently shut down operations in a number of facilities in Europe and the US, a factor that could limit availability over the next few months, he added.
While key US and European products are in backwardation on improving demand and refinery closures, Asian gasoil has remained in contango (future prices higher than spot prices), Blanch said.
"In part, this is because the Asia-Pacific region has experienced a phenomenal expansion in capacity. Thanks to new and sophisticated refining equipment coming on line in recent months, both China and India have continued to expand their net diesel exports. Moreover, demand in Asia has been expanding for quite some time now, but the improvement in Europe and US oil demand has probably come as a greater surprise to the markets in the last few weeks," he said.
But the demand for oil has been strong in market drivers such as China, Blanch wrote. "China's implied oil demand has remained exceptionally strong despite the high export levels,
with apparent fuel consumption increasing by about 20 per cent year-on-year on average in January and February.
"The surge in oil consumption has come on the back of increased demand for petrochemical feedstock, more use of oil in industrial processes, growing demand from the agricultural sector and soaring sales of durable goods such as automobiles."
Follow Emirates 24|7 on Google News.