Qatar looks at China to sell surplus LNG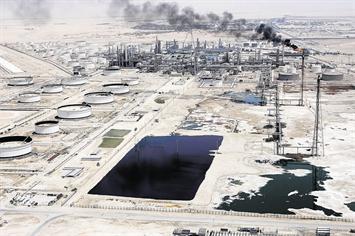 Qatar is turning to China to market surplus in its soaring liquefied natural gas (LNG) output following a drop in gas prices and demand because of the global fiscal crisis and new discovery in the United States, said a Saudi bank yesterday.

The world's top LNG exporter has already signed term contracts with China for the export of five million tonnes of LNG a year and is negotiating for a new deal for the supply of seven million tonnes, the Saudi American Bank (Samba) said.

"Although Qatar stands to gain from a surge in LNG production over the next 24 months, it continues to face a depressed gas market due to excess supply, which has driven down spot prices," said Samba in a study.

"Much of the cause for this is the unexpected emergence of shale gas in the US, combined with the global economic slowdown, which has reduced demand."

The report said that while the profitability of Qatar's low-cost LNG operations are not under threat, the current market glut is forcing the country's main gas producers to adapt their marketing strategies.

It said that although Qatar Gas and Ras Laffan companies have been locked in long-term sales to Japan and South Korea for most of the output of their earlier LNG trains, they were aiming for greater sales into the spot market for new trains, with a particular focus on the United States and Britain where they have established the necessary infrastructure.

"Current market conditions are, however, prompting a reappraisal, and Qatar is looking east again, and in particular to China, to ensure a comfortable mix between the security of term deliveries and spot sales," said Samba. New term contracts have already been signed with China for five million tonnes per year, with an additional seven million tonnes under discussion. Qatar is also looking to position itself as one of China's most important energy suppliers."

Qatar's LNG production exceeded 50 million tonnes a year for the first time in 2009 and is expected to climb to the targeted capacity of 77 million tonnes within the next two years. The Gulf country has already signed major long-term supply deals with South Korea, Japan and other countries, while it is also pushing ahead with plans to expand its crude oil output capacity to above one million bpd.

Qatar launched mega LNG projects in mid 1990s to tap its mammoth offshore North Field, the world's largest reservoir of non-associated natural gas, with estimated proven reserves of more than 900 trillion cubic feet.

Soaring LNG exports have turned Qatar into the richest Arab country and one of the wealthiest nations in terms of GDP per capita, while they have also ensured the country a stable long-term income that will offset volatile oil sales.

LNG projects have also allowed Qatar to have one of the highest economic growth rates in the world over the past decade, with its real GDP recording double-digit growth in recent years.

While its nominal GDP was expected to slip by around 2.6 per cent in 2009 due to lower oil prices, its real GDP is projected to have soared by nearly 9.6 per cent despite the downward impact of the crisis.

"The latest official data releases offer no surprises. As expected quarter-on-quarter nominal GDP began to pick up again in the third quarter of last year, rising by nearly 11.3 per cent," Samba said.

"This was primarily driven by an increase of around 15 per cent in the oil and gas sector as both prices and production increased in the second half of the year, and a 8.9 per cent rise in government services reflecting the government's robust counter cyclical fiscal policy," it said.
Keep up with the latest business news from the region with the Emirates Business 24|7 daily newsletter. To subscribe to the newsletter, please click here.
Follow Emirates 24|7 on Google News.