Saudi Arabia buys 250,000 barrels of spot petrol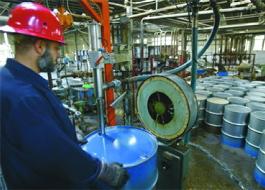 Saudi Arabia, the world's top oil exporter has purchased about 250,000 barrels of petrol for delivery in January, traders said yesterday.

Saudi bought the cargo from the international spot market at about Middle East naphtha plus $50 (Dh183.5), slightly higher from its last purchase in November traders said.

The kingdom last imported petrol in November when in bought about 511,000 barrels of petrol. It did not seek supplies for the motor fuel in December due to stable demand and increased domestic production.

"They bought just one cargo, it's a combination cargo, demand hasn't really changed much from the previous month," a Middle East-based trader said. "Second of half of last year they already started to gradually slow down their imports."

Petrol imports into the kingdom have fallen consistently over the past few months due to increased domestic petrol production due to the start-up of the Rabigh Refining and Petrochemical (PetroRabigh) complex, traders said.

The $10.3 billion joint venture between Saudi Aramco and Japan's Sumitomo Chemical started partial operations at the end of 2008. The integrated facility can produce up to 60,000 bpd of high-octane petrol that will be converted from fuel oil.

The cargo purchased was a combination of 95 octane and 91 octane petrol trader said. The kingdom had been studying the possibility of selling about 500,000 barrels of petrol this month but has shelved the option.

"They still continue to discuss this but they haven't taken a decision yet," a trader said. "But the important thing to note is they have managed to cut down their imports quite significantly, and in a high price environment that really counts."

Last month, Saudi Aramco boosted January supplies to at least two Asian buyers, adding them to the list of refiners getting their fully allotted crude amount since December, after supply curbs for much of 2009.
Keep up with the latest business news from the region with the Emirates Business 24|7 daily newsletter. To subscribe to the newsletter, please click here.
Follow Emirates 24|7 on Google News.