Saudi Arabia receives two bids for Jizan refinery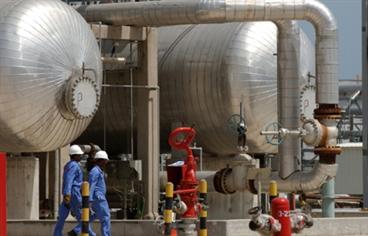 Top oil exporter Saudi Arabia has received two bids from four Saudi-owned firms to build, own and operate a new export-oriented refinery in Jizan, sources said.

Earlier this month, Saudi oil minister Ali Al Naimi said he expected the winning bid to be announced by the end of the year.
The tender for Jizan has been delayed several times, after initial plans to open bidding in the second quarter of 2007.

Saudi industrial group Tasnee teamed up with Saudi Nama Chemicals Group and Saudi Advanced Refineries and Petrochemicals Co (ARPC) to form a consortium, two sources said.

Corral Petroleum Holdings, Swedish-registered and owned by Saudi billionaire Mohammed Al Amoudi, also bid for the project, the sources said adding that they were not aware of any further bidders.

The Saudi oil ministry's point person for Jizan could not be reached for comment. Corral Petroleum Holdings could not be reached.

Corral Petroleum fully owns Sweden-based Preem AB, which has two oil refineries in Sweden. Corral is also the largest shareholder in Morocco's only oil refinery Samir.

The Jizan refinery, which would have a capacity of 250,000 to 400,000 barrels per day of crude is the first Saudi oil refinery to be 100 per cent privately-owned. Jizan is far from the Saudi oil fields on the Gulf coast. It is part of a wider plan to develop the impoverished southern region near the border with Yemen, where a Shia rebellion against the government in Sanaa has spilled over into Saudi Arabia.

When the oil ministry issued request for proposals, it invited foreign companies to form consortia with local firms. Saudi Oil Minister Ali Al Naimi said last year the ministry pre-qualified eight local firms and six international companies for the bidding round.

He did not provide details.

In 2007, the ministry said 43 foreign firms and eight Saudi companies had been prequalified for the tender.

Saudi oil giant Aramco was listed as one of the prequalified companies.

Spokesmen for France Total, Britain's BP, Italian ERG, US Chevron, Marathon Oil, ExxonMobil, Lukoil, Royal Ducth Shell have all declined to comment.

Valero Energy declined to comment but said they are "not currently in the market for refining assets" while US Occidental Petroleum said" "Oxy today is exclusively upstream and has no downstream operations or assets anywhere in the world." Eni Abu Dhabi National Oil Co (Adnoc), Saudi Acwa Power Development and Saudi Obeikan Investment Group did not bid for the project, sources familiar with the companies said.

Neither Petrom nor Petronas, whose Chief Executive Hassan Marican had said his company was keen on taking a role in the refinery were immediately available for comment.

"International companies showed interest in the early stage, they needed some kind of incentives from the government... Incentives [offered] were not favourable for intenational companies," said a source.
Keep up with the latest business news from the region with the Emirates Business 24|7 daily newsletter. To subscribe to the newsletter, please click here.
Follow Emirates 24|7 on Google News.