Saudi's crown jewel has more oil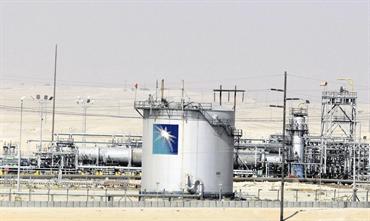 Straddling over an area bigger than neighbouring Qatar and housing more than six per cent of the world's oil wealth, Saudi Arabia's Ghawar is yet to be fully explored though it has been pumping crude for more than half a century.

Ghawar is by far the world's largest oilfield and for this reason the government-owned Saudi Aramco terms it the Gulf Kingdom's 'Crown Jewel'.

Travelling by car at 80 kilometres per hour, visitors need at least eight hours to finish a trip around the oilfield in the eastern province – the hub of the country's oil industry and home to more than 20 per cent of the world's crude resources.

The field now pumps more than half of Saudi Arabia's crude production, nearly six per cent of the world's oil supplies, more than 17 per cent of Opec's output and almost equivalent to the combined production of the UAE and Kuwait.

Located about 100km southwest of Dhahran and 200km east of Riyadh, Ghawar was discovered in 1949 and commissioned two years later.

It began producing a few thousands barrels in its early stages before it reached its peak of 5.7 million barrels per day in 1981.

Because of lack of maintenance following a sharp decline in global oil demand, the field's capacity declined to around five million bpd afterwards but it remained by far the world's largest oilfield in terms of output and reserves. At around five million bpd, the field's output is almost equivalent to the combined production of the UAE and Kuwait.

The field, along with smaller oil reservoirs in the desert area, has brought the Kingdom immense revenues that were instrumental in the transformation of the impoverished barren country into one of the richest nations. Since 1970, the Kingdom's cumulative oil export earnings have exceeded SR5 trillion (Dh4.9trn), nearly half of which have been earned during 2005-2008. From only around SR7,122bn in 1970, oil revenues shot up to SR1,030bn in 2008, a staggering increase of nearly 150 times, according to official Saudi data.

Nearly 57 years after it was brought on stream, the field is still pumping more than half of Saudi Arabia's total crude output and believing that it has an even bigger potential, authorities are planning to embark on a new development scheme that could offset produced oil and maximise its reserves.

Rebuffing persistent claims by experts in the West and other countries, Saudi Aramco says the field is not ageing and its reserves could be even larger.

"Since its discovery, the enormous Ghawar has kept oil experts on their toes. In mid-2007, the Ghawar Integrated Assessment and New Technology (Giant) team, an interdepartmental group working on a long-term visionary endeavour to better understand and characterise the oilfield, came across an interesting finding while looking at ways to maximise the reservoir's oil recovery percentage," Saudi Aramco said in its quarterly bulletin, Dimensions.

"The researchers found an extensive micro-pore system of hidden passages in carbonate rock, where a significant percentage of uncovered oil resides.

"Currently the Giant team is analysing this newfound potential and finding ways to tap into the as yet untapped world below," said Aramco – the world's largest oil producer at present.

According to the magazine, Ghawar is around 280km long and 42km wide, sprawling over an area of nearly 11,700 square kilometres, bigger than Qatar and 14 times the area of Bahrain.

Ghawar's proven oil reserves were officially estimated in 2007 at around 70 billion barrels but several experts believe the figure is exaggerated.

At that level, the onshore field contains more than a quarter of Saudi Arabia's recoverable crude resources of nearly 265 billion barrels and over six per cent of the world's total oil deposits. Its cumulative production is estimated at 55 billion barrels, fetching the Kingdom more than $600bn in revenue.

Besides crude oil, the field is a major source of gas for Saudi Arabia, which controls a quarter of the world's oil and is the fourth largest gas power.

"Saudi Aramco continues to pump about five million barrels of Arabian light crude from Ghawar reservoirs every day. It also pumps 2.5 billion cubic feet per day of natural gas from the field in association with the production of oil and another four billion cubic feet of non-associated gas produced from independent gas reservoirs beneath but not part of Ghawar's oil bearing formations," Aramco said.

"So, by all measures, Ghawar – the 'crown jewel' for Saudi Aramco and the Kingdom, is an awesome asset. The field has all the right stuff to be a super producer – high porosity of its reservoir rock, which means Ghawar, the world's largest oilfield, was born to greatness in the Jurassic period between 145 million and 199 million years ago and further developed during the Cretaceous period between 65m and 145m years ago."

Despite its mammoth resources, Ghawar is not included in Saudi Aramco's ongoing massive development programme for other key oilfields within plans to expand the country's oil output capacity by 1.3 million bpd to 12.5 million bpd by the end of 2009.

Experts said the field has passed through several phases of development over the past decades and any new development schemes would primarily focus on maintaining its present capacity.

Saudi Arabia, Opec's de facto leader that pumps almost a-third of the Cartel's crude supplies, has more than 300 recognised oil reservoirs.

But around 90 per cent of the country's oil production comes from a handful of major oil fields discovered between 1940 and 1965. They include Ghawar, Abqaiq, Safaniya, Manifa, Khursaniyah, Shaybah and Khurais.


Key oil expansion projects

Khursaniyah: Oil production facilities neared completion at the end of 2007, with facilities slated to come on-stream in 2008.

The plant has the capacity to process and stabilise 500,000 bpd of Arabian Light crude. All gathering and distribution pipelines, and communication and industrial support facilities were commissioned in 2007.

Khurais: The Khurais programme, the largest integrated project in company history and the largest industrial project in the world, is on track for facilities completion The programme will increase production capacity of Arabian Light crude by 1.2 million bpd through a new Central Processing Facility, the largest of its kind in Saudi Arabia.

Manifa: The Manifa oil field programme will be developed with onshore and offshore wells using electric submersible pumps to produce 900,000 bpd of Arabian Heavy crude oil starting in Q3 of 2011.

Shaybah: Major installations of the Shaybah Crude Oil Expansion program include a gas-oil separation plant, and gas compression and injection facilities. When the facilities are complete, Shaybah field production capacity of Arabian Extra Light oil will increase from 500,000 bpd to 750,000 bpd in 2009.
Follow Emirates 24|7 on Google News.