Some filling stations start selling petrol by litre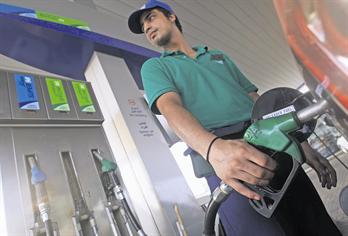 Petrol stations across the UAE are going metric from this year and several have already started retail dispensing of diesel and petrol in litres, which also gives a marginal bonus to consumers.

Many others are waiting for the final changes in the petrol dispensing system to introduce the litre retailing. Emarat, a leading petrol retailer, has already implemented the scheme in most of its outlets, while Adnoc, Enoc and Eppco are still working on the changes. The Emirates Authority for Standardisation and Metrology (ESMA) has announced that 416 petrol stations in the UAE will start selling fuel in litres from January 1, 2010.

"We have started dispensing petrol and diesel in litres from today onwards. We have been briefing our staff and customers about the change and there is no confusion. The customer is gaining about 1fil per litre because of the conversion and there is no confusion about the new system," said the sales supervisor of an Emarat Petrol Pump located on Sheikh Zayed Road. He said the retail price of a litre of special petrol is Dh1.37, while for super it is Dh1.48 per litre. In the case of diesel, the price per litre is Dh2.36.

"We have been briefing customers about the new changes for the past 10 days. Most consumers are aware of the changes and don't ask any questions," the supervisor said. Oil companies had hitherto been selling fuel in gallons for retail customers but the Emirates Authority for Standardisation & Metrology, a federal authority, announced that oil companies will start retailing in litres instead of gallons as the basic units of fuel from January 1. However, there would be no change in the selling price of fuel at service stations.

Not all petrol stations have yet gone metric, though, and most cite lack of final authorisation for not affecting the change.

"We heard an announcement from the head office that all petrol stations will start selling in litres from January 1. We haven't heard further and today we are selling in gallons. The decision has to come from the headquarters," said a staff of a leading petrol station in Dubai.

Another sales person at an Enoc petrol station in Al Ghusais said: "We are yet to introduce the litre system, but it will be good for employees and customers. Some customers used to dispute the quantity of fuel filled and a minor difference in the gallon-litre conversion could make a major difference for us. If it is in litres, the maximum dispute will be for a litre or less than a litre. Earlier a difference or dispute of one gallon made a big difference."

Sales staff of an Eppco petrol station in Sharjah said: "We are still using the gallon system because the final changes are not made. Four days ago, senior officials visited our petrol pumps and closed one meter. Customers will get a marginal gain of 20fils per gallon as per the new measuring policy. It will be good for customers in this recessionary period. We are told that only a few petrol stations will initially introduce the litre system."

An Adnoc petrol pump supervisor said the switch to the litre dispensing system will start only on January 26, 2010. "We are told that the conversion will take place on January 26. Adnoc is following a centralised pricing system and once the change is introduced all Adnoc petrol pumps will sell in litres.

"Today's price is Dh8.6 per gallon of diesel, Dh 5.75 per gallon of E Plus petrol and Dh 6.25 per gallon of special petrol. The new price list is yet to come, but the consumer will gain marginally due to the new system."

He said customers keep asking about the introduction of the new system.

A regular customer said: "I did not notice whether they were selling in litres or gallons. I just drove in as usual and the petrol boy said Dh50 after filling. As in the past, I just paid the bill and drove away. I did not know that there is a gain from the new pricing system in litres.
Keep up with the latest business news from the region with the Emirates Business 24|7 daily newsletter. To subscribe to the newsletter, please click here
Follow Emirates 24|7 on Google News.