UAE fully committed to Irena's success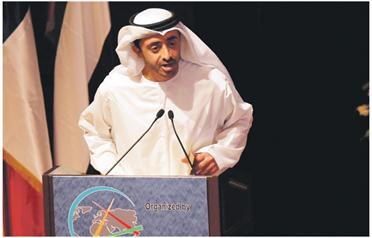 The admission of 139 signatories to the International Renewable Energy Agency (Irena) membership in its first year demonstrates the true international commitment to adopt renewable energy, Foreign Minister Sheikh Abdullah bin Zayed Al Nahyan said yesterday.

"Today, the world has an international agency that is dedicated to diversify the use of renewable energy. The agency will seek to deliver support to the world for paving the way for sustainable use of renewable energy," Sheikh Abdullah told the the third session of the Preparatory Commission for the agency hosted by Abu Dhabi yesterday.

"Irena will widen the scale of using this energy across the world. It all also consider available options of investment and technology in renewable energy applications," he said.

"In view of current challenges posed by the climate change and reality of conventional energy industry, it is important to mobilise international efforts to boost the international character of Irena and empowering the agency to deliver its aspired mission," he said.

"As a major oil producer and host of Irena, the UAE is giving its voice to other countries to send out a message that we all believe in what we say, 'We can't rely on the energy of the past to make prosperity in the future'," said Sheikh Abdullah.

"We all know that we have to pursue the search for clear energy solutions and implement energy efficiency measures to meet future demands. As we possess the ideal components of this approach, we are in a desperate need for a joint action to accelerate establishment of Irena's headquarters and liaison and support offices in other countries," he said.

"The UAE is committed to provide full support to Irena to enable it to deliver its mission of securing support of what is related to renewable energy applications, assist countries to benefit from sustainable development and transfer and share expertise in technology and knowledge," said the UAE foreign minister.

"Hosting Irena seat is a rich experience that goes beyond the winning of that race to cultivating and building fraternal relations with many countries I had toured ahead of voting for selecting the host country," he said.

Sheikh Abdullah paid tributes to all countries that offered support to the UAE efforts to host the Irena HQ.

According to him, the experiences of countries he has visited on sustainability and renewable energy provided the UAE with an additional momentum to maximise its efforts along with those of the international community to advance this sector.

Scores of models across the world, he said, have proven that use of renewable energy has become a reality.

"This is a clear signal to the determination of countries to boost world renewable energy production and obtain a good slice of the cake," he said.
Keep up with the latest business news from the region with the Emirates Business 24|7 daily newsletter. To subscribe to the newsletter, please click here.
Follow Emirates 24|7 on Google News.