Unstable demand impedes Arab oil refining projects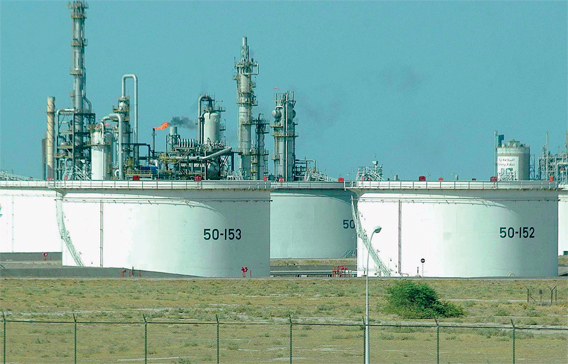 Persistent volatility in demand, fluctuating construction costs and some other factors are obstructing refining projects in the Arab region despite their importance in economic diversification, according to an official study.
Many Arab nations have approved plans to build new refineries or expand existing units to meet domestic and external consumption and at the same time to cope with the changes in the structure of demand for oil products, said the study, published in the monthly magazine of the 10-nation Organisation of Arab Petroleum Exporting Countries (Oapec).
The study said such changes include cutting the use of high-sulfur heavy fuel for environmental reasons, the availability of natural gas in some Arab countries, and the application of energy-saving measures in industry.
In response, several refineries have announced projects to change the structure of their output in keeping with the change in demand, it said.
"Several Arab countries are now building new units to convert fuel oil and heavy products to light derivatives, as well as new high-tech refining facilities. However, projects for building new refineries and developing existing refineries in many Arab countries are facing hurdles that may impede, delay, or even jeopardise their implementation," Oapec said.
"These hurdles include the uncertainty surrounding future demand trends for oil products on world markets, which makes it difficult to predict the economic risks of investing in new projects… They also include fluctuation of building material costs, especially in the pre-crisis period [mid-2008], which created wide disparities in project cost estimates."
The Kuwait-based Oapec, which controls more than 60 per cent of the world's recoverable oil deposits, said the global fiscal turmoil had made investors "uneasy" due to the uncertainty about its results and possible impact on the entire hydrocarbon industry worldwide.
"Another key obstacle is the pressure arising from the environmental protection legislation that some governments and international environment organisations want to enact. Approval of refining projects is often delayed awaiting evaluation of their economic viability and environmental impacts," it said.
"Despite the great efforts exerted by those responsible for the Arab refining industry, the rapid pace of change in the industry and its projects makes their job even harder. It is not easy to run an industry that requires a certain degree of dynamism and sound decision-making at the right time."
Oapec urged its members, which include six Gulf nations, to co-operate with local and foreign research institutes to develop the technology needed for upgraded refining operations, particularly conversion and hydro-treating processes, so that Arab refineries can produce oil products that comply with local and international environmental requirements.
"We hope that current refinery development projects will continue to be implemented so that the capacity of conversion processes, hydro-treating, and naphtha reforming can be raised to world standards… Such measures will boost the profitability of this vital industry," it said.
"We also hope that pipelines for transporting products will continue to be laid so that Arab countries can exchange products and that terminals for exporting surplus derivatives to overseas markets will continue to be built."
In an earlier study, Oapec said refining projects in the Arab world could add nearly 5.4 million barrels per day to the region's output capacity by 2014. Most of the increase is expected to come from the UAE, Saudi Arabia and Kuwait, which hold more than 40 per cent of the world's oil.
The current combined Arab refining output capacity is estimated at over seven million bpd and the new projects, which will cost at least $100 billion (Dh367bn), would boost production to 12.425 million bpd by the end of 2014.
According to Oapec, Arab nations currently have 64 refineries, pumping nearly 7.39 million bpd at the end of 2008 compared with 7.2 million bpd at the end of 2006.
The increase in 2008 was mainly a result of expansion in refining units in some members, including the UAE, where refining capacity grew to 798,000 bpd from 778,000 bpd in 2006.
Saudi Arabia's refining output remained unchanged at around $2.09 million bpd but it accounted for nearly 27 per cent of the total Arab refining production. The kingdom's capacity is also projected to rise sharply in the next few years as it is pushing ahead with major refining projects.
In another study, Oapec's affiliate, the Arab Petroleum Investment Corporation (Apicorp), said the cancellation or postponement of energy projects in the region has sharply cut investment requirements in the coming years. It said the global credit squeeze had already slashed the energy investment requirements in Middle East and North Africa (Mena) by nearly $200bn during 2009-2013.
"The impact on energy investments in Mena evident is our five-year period review (2009-2013) and tentative preview (2010-2014)…in a context of lower demand, our preview points to lower potential capital requirements resulting mainly from lower costs…both the review and the preview point to the upside likely to be capped by further shelving or suspension of key projects," said Oapec.
Follow Emirates 24|7 on Google News.