US calls for transparent oil prices and rise in investments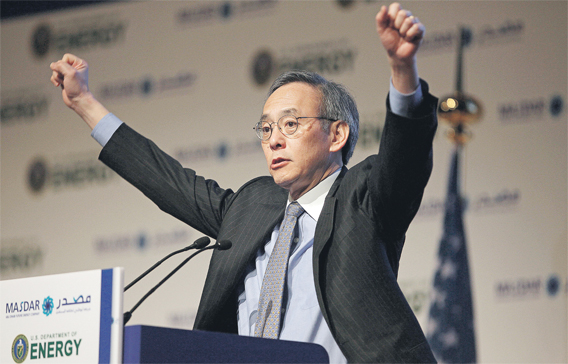 The US yesterday called for stable and transparent oil prices and further investment to help enhance production capacity for the short-term by producing countries.
Talking to reporters in the UAE capital after his visit to Saudi Arabia, Dr Steven Chu, US Energy Secretary, who is on a Middle East tour, said the best and most acceptable oil price for both producers and consumers would a open, un-dictated, stable and transparent price.
"We don't believe in a certain fixed price. Our position is that we want the prices open and be as transparent as possible. And we also want the prices to be as stable as possible."
Chu said there was excess in capacity in the short-term, but most governments and companies need to invest to help enhance production for long term.
"In the short-term, there is excess capacity because we are in the recession and there is extra capacity. However, governments and companies in the world are determining how to invest to allow future production growth in the anticipation that we will be growing. We want both some growth and production capability," said Chu. On reports that China is surpassing the US in Saudi oil imports and asked weather that would affect their relations with the kingdom, he said the two countries will continue enjoying their good relationships.
"I think it is correct as far as I know. However, we will continue having good relations with Saudi Arabia, which is the second largest producer in the world. In the long run, we would like to decrease the demand on importing oil. However, overall demand for oil in the world in the next decade will increase, and that is my projection," he said.
About UAE's nuclear project, Chu said the UAE as per the US-UAE 123 agreement, would not be allowed to process fuel in the country because of non-proliferation compliance. However, he said US had no problem the fuel for the nuclear plant was processed in UK or France.
Chu was in Saudi Arabia before arriving in the UAE and discussed with Saudi officials energy issues, including nuclear power projects. In Saudi Arabia, he told a forum the world was undergoing a series of changes and issues relating to climate change must be addressed for a better world.
Earlier, Chu addressed a group of students from Abu Dhabi's Masdar Institute of Science and Technology. The function was also attended by Masdar CEO Dr Sultan Al Jaber.
In his speech, he stressed on the maximum use of clean and alternative energy to help reduce dependence on fossil fuel.
Keep up with the latest business news from the region with the Emirates Business 24|7 daily newsletter. To subscribe to the newsletter, please click here.
Follow Emirates 24|7 on Google News.