US mortgage data stems nine-day rally in oil prices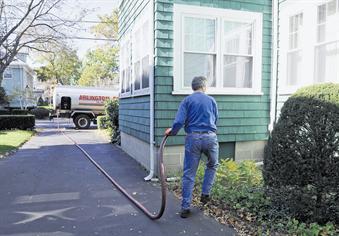 Oil eased yesterday after US data showed weak mortgage demand in the world's top energy consumer, halting a nine-day rally that has lifted crude futures by 14 per cent due to cold weather and geopolitical jitters.

US crude for February delivery fell 0.35 per cent to $81.47 a barrel by 1246 GMT, after settling up 26 cents on Tuesday at $81.77, its highest closing level since early October 2008. London Brent crude eased 32 cents to $80.27.

US mortgage rates jumped 0.10 percentage points on average last week, while demand for 30-year mortgages held near six-month lows, a Mortgage Bankers Association survey showed yesterday.

"The housing sector is still not out of the woods, and is heavily dependent on US government support," said Harry Tchilinguirian, head of research for commodity derivatives at BNP Paribas. "If crude is rangebound, as we say it is, then [this mortgage data] is an opportunity for a slight pullback in the oil market."

US crude oil has risen from a low of $69.57 on December 15 to a 14-month intraday high at $82 on Tuesday.

Arctic winds have pushed down into the northern hemisphere, freezing Europe and parts of Asia and boosting demand for heating fuel in the United States some 21 per cent above normal.

But a dent in sentiment appeared following data from the American Petroleum Institute (API), released after the market's close on Tuesday, showed US distillate supplies rose 962,000 barrels last week, against an expected 1.9-million barrel drop.

"The latest build in distillate stocks should provide a slap in the face to bulls who relied on cold temperatures as a wonder cure," said David Wech of JBC Energy.

Markets look to weekly Energy Information Administration data (EIA), as well as US employment numbers and a gauge of December non-manufacturing activity, to test the recovery of the world's largest economy.

Petrol inventories in the United States rose 5.6 million barrels in the week to January 1, according to the API data, and heating oil stockpiles dropped 1.3 million barrels. Supplies of crude oil fell by a greater-than-expected 2.3 million barrels.

The Nymex February heating oil contract is hovering near 15-month highs. On Wednesday it eased slightly to $2.1825 per gallon after settling on Tuesday up 0.16 per cent at $2.1941, its highest close since Oct. 20, 2008.

Elsewhere icy weather descended on northern China over the last week, bringing heavy snow and record low temperatures to Beijing and causing cities across eastern and central parts of the country to begin rationing power.

Britain's unusually cold weather spell will likely continue into the second half of January, the Met Office said this week.

Belarus insisted that Russia should continue billions of dollars in oil subsidies, potentially complicating talks aimed at resolving a dispute over a pipeline that brings 10 per cent of Europe's crude to market.

"In the entire northern hemisphere we've got the first sustained blast of winter," Mike Wittner, head of oil market research at Société Générale, said in a television interview. "I don't expect the prices to keep on going onwards and upwards forever. We could go up another couple of dollars from here."

Crude oil for February delivery was at $81.69 a barrel, down eight cents, in electronic trading on the New York Mercantile Exchange at 9:50am London time. On Tuesday, the contract rose 26 cents to $81.77, the highest settlement since October 9, 2008.

Temperatures in northern China may drop as low as minus 32 degrees Celsius, the China Meteorological Administration said. Beijing recorded a temperature of negative 20 degrees Celsius on Tuesday night, the agency said. China is the world's second-largest oil user.

Heating demand in the US Northeast may be 11 per cent above normal through January 12, according to forecaster Weather Derivatives. "The weather is cold everywhere in the Northern Hemisphere, with Europe getting walloped and China as well," said Anthony Nunan, an assistant general manager for risk management at Mitsubishi in Tokyo. "Anything that's positive for heating oil and middle distillate demand has to be a positive for crude oil. The inventories have basically come off their peaks in the last few weeks." 
Keep up with the latest business news from the region with the Emirates Business 24|7 daily newsletter. To subscribe to the newsletter, please click here.
Follow Emirates 24|7 on Google News.