US oil slides towards $37 on economic gloom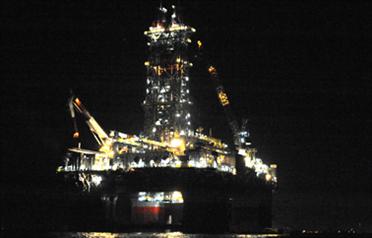 US oil prices slipped towards $37 a barrel on Monday as a raft of bearish economic data focused attention on declining global oil demand.
Japan's economy shrank in the last quarter by its most since the first oil crisis in 1974, hit by an unprecedented slump in exports, which is likely to lead to more calls for extra stimulus steps to fight the deepening recession.
The impact of the recession is also being felt in South Korea, where January exports dropped by a record 33.8 per cent from a year earlier, even worse than forecast.
Energy demand is already contracting in the United States, the world's biggest oil consumer, undermining oil prices that have fallen by more than 70 per cent from their peak at almost $150 per barrel last year.
US light crude oil futures for March delivery were down 45 cents at $37.06 a barrel by 1530 GMT in electronic trade, after gaining $3.53 on Friday. The New York Mercantile Exchange was closed for Presidents Day and was due to reopen on Tuesday.
London Brent crude for April fell 27 cents to $45.54, maintaining a premium to US oil due to high stock levels at the main US storage hub in Cushing, Oklahoma.
The head of the International Energy Agency (IEA) acknowledged the fall in oil demand on Monday and said there could be an oil market supply crunch from next year once global oil demand begins to recover if investment in new oil production and alternative forms of energy were reduced by the downturn.
IEA Executive Director Nobuo Tanaka told reporters on the sidelines of a conference in London he expected world oil demand to resume growth from next year, rising by about 1 million barrels per day (bpd) in 2010.
"Currently the demand is very low due to the very bad economic situation," Tanaka said.
"But when the economy starts growing, recovery comes again in 2010 and then onward, we may have another serious supply crunch if capital investment is not coming," Tanaka said.
Analysts see most oil prices trapped within a fairly tight trading range for the time being.
"We continue to maintain that crude prices will be trapped in a sideways band for the next several weeks," brokers MF Global said in a note to clients. "Rallies above $50 look vulnerable, as given the deteriorating global macro backdrop, we do not think prices north of that level will be sustainable."
Oil's jump on Friday was largely boosted by renewed optimism that a giant US stimulus package could help pull the economy out of a 14-month recession, while the gains were further encouraged as traders booked profits by selling the spread between front and second month futures contracts.
US President Barack Obama on Saturday hailed congressional approval of the $787 billion economic stimulus bill as a major milestone in the country's economic recovery and the White House said he would sign the legislation on Tuesday.
Obama's aides warned Americans Sunday not to expect instant miracles from the bill but said it would help eventually.
Analysts see downside risks for oil, as economies struggle through their worst recession in decades.
US economic data due to be released on Tuesday include manufacturing production in New York State and US home builder sentiment for February.
Follow Emirates 24|7 on Google News.