Cycling around the world to raise cancer awareness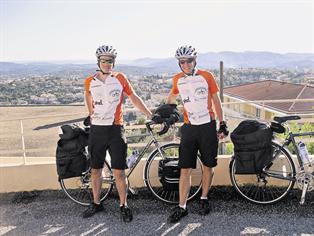 Two brothers have cycled into Dubai this week as part of a challenge of a lifetime to circumnavigate the globe on two wheels.

Having trained for a year, Jon, 27, and older brother Dom Wright, started their Tropic of Cancer for Cancer Challenge in central London on October 9 and are in the Emirates for a few rest days, 7,000km into the 18,000km epic. They will depart tomorrow for Muscat from where they will fly to Mumbai and continue their journey east across Asia.

As a double testicular cancer survivor in 2007 and 2008, Jon is determined to raise awareness of the disease globally and generate £100,000 (Dh589,000)?for four British cancer charities.

"If it's caught early, testicular cancer is one of the most treatable cancers but men cannot suffer alone. I felt physically and mentally drained but when I saw a map of the world while waiting to see the consultant it got me thinking," explained Jon, who gave up his job in investment banking to do the challenge.

And so the Tropic of Cancer for Cancer Challenge was conceived. But it was only down to corporate donations that the odyssey was able to happen. The brothers estimated it would take them until June 21 to reach Havana, Cuba, where they will celebrate on the day of the summer solstice but are now hoping to finish a month early.

In the United Kingdom, testicular cancer accounts for between one and two per cent of all male cancers, according to Cancer Research UK but while the number of cases is rising, the majority can be cured. Just under half of all cases occur in men under the age of 35 and 90 per cent in men under 55.

The brothers have each invested £2,000 with the rest of the £20,000 costs donated by corporate sponsors but they still have a way to go as they are only 10 per cent into their £100,000 fundraising target.

"We thought the main part of the challenge would be the cycling, but it's become a small part of what we have built," says Dom, adding that the pair are living on about Dh200 a day.

"Every country we have been to, kids have come out to wave, which has really given us a boost."

They stay with friends or hostels when they can, with other nights spent in a tent, restocking on food and water daily as they have to carry everything they need on their bikes as they have no support team. They cover up to 110km a day and have just one rest day a week so it's not surprising the adventure hasn't all been plain sailing.

Not only have they had trouble getting visas for Saudi Arabia, so are skipping that section for now, with the aim of returning later in the year, but puncture during torrential rain in Italy slowed their progress.

"Jon wanted to stop for food but I warned him if we did, we could get a puncture and that's exactly what happened. It was so cold we were shaking while sheltering under an iron roof," said Dom, now able to laugh about the event.

But with more than 10,000km to go, they are still a long way off Cuba – and therefore home but refuse to give up.

"We want to give strength to people not only suffering from cancer but to those affected by, it as most people have been affected by cancer, and hopefully save some lives," said Jon.

To keep track of Jon and Dom's progress, visit www.tccchallenge.co.uk.
Keep up with the latest business news from the region with the Emirates Business 24|7 daily newsletter. To subscribe to the newsletter, please click here.
Follow Emirates 24|7 on Google News.