Doctor fish will make you free of dead skin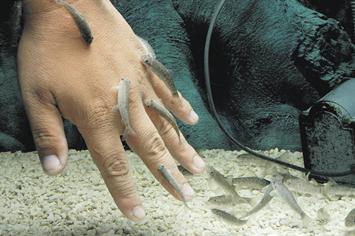 The exotic spa treatment Garra Rufa – popularly known as "doctor fish" will make their debut for Dubai residents at the forthcoming Aquariya Expo. AquaArt, a Qatar-based distributor of top aquarium brands and exotic aquatic fish and plants, will showcase the health benefits of Garra Rufa at the upcoming premier ornamental aquatic event and the largest consumer event for the marine aquarium industry in the Middle East.

The company's aims to introduce alternative health and beauty treatments, using this unique aquatic species, to spas and hotels in the UAE. In addition to"doctor fish", AquaArt will also exhibit a wide range of unique aquarium products and design services from its current portfolio of offerings during the event's three-day run, from March 4 until 6 in Dubai.

Native to the hot springs of Turkey, "doctor fish" has been known to help alleviate a medical condition called Psoriasis, by encouraging them to feed on the psoriatic skin of people afflicted, making it a popular attraction among spas, manicure and pedicure centres, and health and beauty salons in Asia and the United States.

The fish only gently sucks on and scrubs the affected areas while at the same time exuding ditranol – a mild antiseptic – from its lips over the skin area, which can provide smoother and softer skin after treatment. In addition to highlighting the medical benefits of the "doctor fish", AquaArt is also a specialist in the design and construction of these fish spas to provide proper husbandry and care of these "doctor fish" as well as the hygiene in the therapy ponds for its human patrons. The proper design of these fish spa filtration systems is of utmost importance in order to keep these prized fish in optimum condition, replicating its natural hot spring environment.

"With the growing popularity of alternative health and beauty treatments, this unique fish species "doctor fish" has caught the interest not only of fish hobbyist but also those who are seeking unconventional treatments and therapeutic benefits," said Kevin Tan, General Manager, AquaArt.

"Our participation at the Aquariya Expo 2009 is intended to introduce new and exciting developments in the spa industry to hotels and health resorts in the UAE. We believe that this event will provide us with an excellent platform to talk to our customers, which will enable us to expand our customer base in the Emirates."

In addition to AquaArt, 49 other exhibitors from more than 15 countries, including Brazil, China, France, India, Japan, Malaysia, Indonesia, Saudi Arabia and Thailand have also confirmed their participation at the event, along with industry experts who will be talking about the new trends and breakthroughs in the market.

The exhibitors will be comprised of ornamental fish farmers and traders, as well as importers, exporters, distributors and dealers of ornamental fish, fish food, aquarium plants, water treatment equipment, aquarium accessories, illuminations, ornaments and backgrounds, aerators, heaters and regulators.
Follow Emirates 24|7 on Google News.