Latest medical gadgets make life easier for patients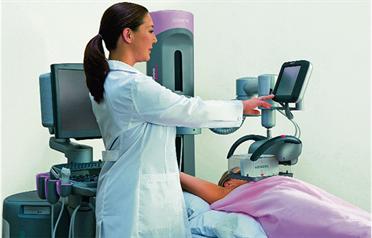 This week's Arab Health 2010 exhibition has once again provided the stage for some of the world's top medical equipment and servicing centres to showcase their latest developments.
With more than 2,000 stands, the show, which ends today, has been buzzing all week with new deals and buyers eager to get their hands on the most up-to-date technologies.
Held at the Dubai International Exhibition Centre, Arab Health 2010 is already a record-breaker as it's the biggest show in the event's history with more than 2,700 exhibitors from 70 countries.
From one-hour lab tests to bionic hands, we have rounded up some of the latest technologies at the exhibition that promise to change the face of the health industry and help patients  in the years to come.
Enigma Diagnostics
With technology born from the British Ministry of Defence, the Enigma ML machine allows diseases such as swine flu to be detected to laboratory standards in less than an hour. The machine works simply by tasting a sample or swab before a print out delivers the diagnosis. With normal labs sometimes taking in excess of a week to deliver results, the machine can speed up diagnosis and thus, treatment and recovery in the future.
John McKinley, Chairman and CEO of Enigma Diagnostics, says: "Regionally there are very few labs to do testing and setting one up can cost more than $1 million       (Dh3.67m)   staff but can be brought into a doctor's surgery so it is cost effective and saves time. It can also be used elsewhere such as at border controls or in schools to diagnose children before others get infected."
Siemens
Germany-based company Siemens is showcasing a number of products this week but is putting particular emphasis on its Acuson S2000 ABVS, the world's first ultrasound system specifically designed to scan and improve the analysis of dense breast tissues.
Although a mammogram is still required at the moment, this machine has the potential to replace it and because it is painless, offers patients a number of benefits, says Siemens, which invests 10 per cent of its income on research and development each year.
"Mammograms can be very uncomfortable but patients simply lie underneath this. It also has better image quality as it can see through the layers better to detect lesions or cancer. It has the potential to replace mammograms," a spokesperson explained.
Touch Bionics
This revolutionary first world technology allows people who have lost their hands to have a bionic one with full movement.
Usually, false hands act like a claw as all the fingers move together but Touch Bionics' new device has a motor fitted in each finger making it more akin to the real thing. The hand can also be created to mimic the person's skin colour and appearance.
"People in the Middle East are conscious about cosmetic appearance but it can be painted to look the same," said a spokesperson.
The hand is fitted to the end of a pole that is attached to the arm via a socket, which sends signals through the muscles to move the fingers.
NxStage
Dialysis can be a three-times weekly hassle for patients but a new device unveiled by British company Kimal promises to make it less of a grind. The company has developed the world's first portable haemodialysis machine, the NxStage, which allows them to undergo the procedure in the comfort of their own homes rather than having to go to hospital. The 18kg machine can also be packed along on holiday.
Ken Findlay, Corporate Marketing Manager of Kimal, says the machine could become particularly useful in this region given  the high prevalence of diabetes in the Gulf.
"A lot of dialysis patients will have had diabetes so there is a chance a lot of sufferers here will move on to dialysis. Going to hospital three or four times a week for dialysis is very tiring but with this you can sit at home and watch TV while you're doing it. Some people have also said they would like to take it to work and use it there," he added.
Keep up with the latest business news from the region with the Emirates Business 24|7 daily newsletter. To subscribe to the newsletter, please click here.
Follow Emirates 24|7 on Google News.