Lifestyle diseases still a worrying trend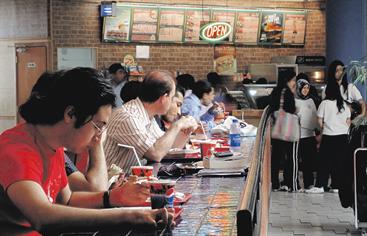 As Arab Health 2010 kicks off today, the nation's well-being is once again at the top of the national agenda. From diabetes and its knock-on effects to how professionals can spur better prevention efforts, experts will debate all manner of issues during the week, even as the latest technologies go on display in attempts to push the boundaries of modern medical practice.

According to data from IIR Middle East, the organisers of Arab Health 2010, approximately $14 billion (Dh51.38bn) worth of healthcare-related projects are underway in the GCC, with Saudi Arabia alone spending more than $6.6bn on a total of 83 projects, and the UAE and Qatar spending amounts of $2.9bn and $2.8bn respectively.

Meanwhile, a report by Ithmar Capital and Dow Jones Private Equity has found that GCC nations need 138,965 hospital beds, 140,334 physicians and 227,079 nurses by 2050 to maintain the current healthcare levels, with the UAE alone needing 15,698 new beds and physicians along with 31,396 more nurses.

Despite increased demand, healthcare has not been immune to the economic downturn, but Simon Page, Life Sciences Director of IIR Middle East, believes things are looking up.

"In spite of significant project delays in other non-infrastructure sectors, the pipeline of healthcare projects in the region remains remarkably robust, particularly for Saudi Arabia and the UAE," he said.

Diabetes has dominated discussions since it was revealed that the UAE has the second-highest prevalence worldwide of the illness. And while it remains a priority for 2010, other issues are moving up the agenda.

As some of the world's best practitioners converge on Dubai, we take a look at which trends are likely to dominate conference rooms and hospital wards all over the nation over the course of this year.

Diabetes

Concern about diabetes has been raging since the turn of the century. The disease shows no sign of abating and has reached endemic levels in the region, according to executives at Welcare Hospitals in Dubai.

"Campaigns will be geared towards lifestyle changes and there will be a huge focus on prevention, with both the government and private sector being involved," said Dr Pietie Loubser, Chief Clinical Officer at Welcare Hospitals.

Obesity

One of the primary causes of diabetes, obesity is a growing problem in the UAE and one that medics are working hard to reduce. They do, however, admit that wealth can prove a hurdle to countering obesity in the region.

Aziz Koleilat, General Manager, GE Healthcare for the Middle East, said: "Obesity, diabetes and cardiac ailments are the three main problems in the UAE and all are diseases of affluence. When people have money, they stop walking and drive their cars instead, which means they don't exercise enough to stay healthy."

Cardiac problems

A knock-on effect of obesity is heart disease, which is also caused by a sedentary lifestyle. Despite the UAE having a young population, heart disease remains rife. The majority of residents are aged under 30, which is in stark contrast compared to Europe, for example, where there is a significant number of people over the age of 50.

"The cardiac team is an area of big focus for us due to the rising trend in cases resulting from diabetes. We closed the cardiac units in Welcare Hospitals so that we could concentrate on it at one place at the City Hospital," said Dr Ottmar Schmidt, the group's Director of Marketing and Public Relations.

Prevention

Preventing illness is not just beneficial for patients but also helps the healthcare industry as it is cheaper to prevent problems than deal with them once they arise. "Governments are choosing to tackle the cause through preventative medicine and early screening," said Page.

"Education is an important part of the culture in the Middle East with health education playing a more prominent role in schools and social activities. Both children and parents alike are being taught the importance of healthy lifestyle choices and the harmful effects that a sedentary lifestyle can wield on a person's health."

Meeting Western standards

With the UAE still considered a relatively new country, it may not be as advanced as the West when it comes to certain medical procedures and practices but medics are working to change this and in turn, encouraging patients to seek treatment in the country rather than going abroad.

"People are not keen to undergo major treatments in the UAE but we have quality doctors here. There is a huge focus on quality care," said Dr Schmidt, adding that all hospitals must be accredited by an international body by March, boosting confidence in the system.

Insurance

The government has been working for a number of years to encourage more companies to provide healthcare to their employees. At one point, it was due to become mandatory for all companies to provide their staff with cover but that proposal is now on hold.

"Health insurance is a public-private initiative and you can see the drive to mandate it with the likes of Daman in Abu Dhabi where all employees have to be insured," said Koleilat.

Public-private partnerships

Several private companies have welcomed working side-by-side with the government. Given the increase of private institutions as compared to public ones, and the added benefit of private health insurance, many people choose to receive care from private hospitals, which often have the finances to attract top medics.

"Private healthcare providers help the government shoulder the burden. A huge segment of the population has health insurance cover so the government relies on the private sector to provide it and the necessary care that stems from it," said Dr Loubser.



ARAB HEALTH 2010

Arab Health 2010 is the largest health exhibition and congress in the Middle East and the second largest in the world. Doors will open at 10am today, with the event running until Thursday. Thanks to the expansion of the Dubai International Exhibition Centre, organisers expect Arab Health to grow 20 per cent this year compared to 2009 when 2,205 exhibitors from 59 countries and 56,000 professionals from 145 nations attended.

The show, established 35 years ago, will also have its annual congress running alongside with panels for all manner of specialties, including orthopaedics and paediatrics. Leaders in Healthcare, on Thursday, meanwhile, will focus on sustainable and green healthcare.
Keep up with the latest business news from the region with the Emirates Business 24|7 daily newsletter. To subscribe to the newsletter, please click here.
Follow Emirates 24|7 on Google News.