Roche sees slower growth as revenue drops 5%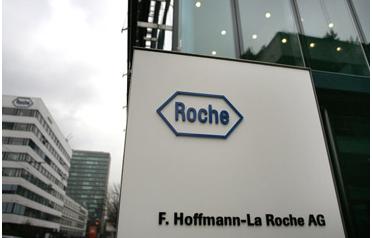 sees growth slowing this year after its 2008 profit fell 5 per cent and missed expectations, hurt by a loss of pandemic Tamiflu sales and the strong Swiss franc.
Roche, which has made a $42 billion (Dh154.56 billion) hostile bid for US biotech group Genentech Inc, said on Wednesday it expected mid-single-digit sales growth for both divisions and the group, a cut from its 2008 forecast of high-single-digit growth.
"The results are clearly below expectations," a trader said. "The stock price should definitely fall."
Roche's full-year net profit fell to 10.8 billion Swiss francs (Dh34.22billion).
Pharmaceutical companies like Roche have proven relatively resilient during the economic downturn as healthcare is usually one of the last areas where customers cut back spending.
It saw core earnings per share (EPS) remaining at its 2008 level, despite seeing a lower net financial result as it ramps up research and development spending.
Roche proposed a higher-than-expected dividend of 5 francs a share.
The Swiss company last week launched a surprise hostile bid at a price below its original rejected offer, reflecting tougher financing conditions and a drop in Genentech shares.
Roche expects the Genentech acquisition to have a positive impact on core EPS within the first year of closing and it will update targets after the deal has been closed.
Operating free cash flow rose 16 per cent to 12.4 billion francs, Roche said.
Roche trades at about 13 times forecast 2009 earnings, a premium over its local Swiss rival Novartis AG and other big European drug manufacturers like GlaxoSmithKline Plc and Sanofi-Aventis SA due to its promising portfolio of cancer drugs and growth prospects.
Roche is also a step ahead of many competitors because it has limited exposure to generic or copycat versions of its drugs and is trying to reinforce that position with its attempt to buy the 44 per cent of Genentech it does not already own.
Its cancer drugs posted a solid performance, underpinned by blockbusters MabThera, Avastin and Herceptin, all of which sold more than 5 billion francs.
Roche had been expected to post net profit of 11.4 billion francs and sales of 45.6 billion, according to a Reuters poll. Analysts had seen its dividend at 4.94 francs. 
Follow Emirates 24|7 on Google News.
Swiss pharmaceutical company Roche