ADSB 2010 order book exceeds Dh4bn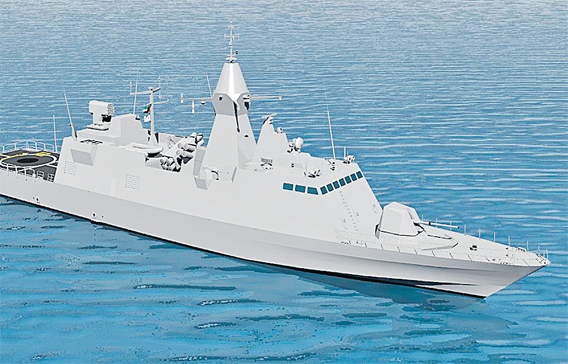 Abu Dhabi Ship Building (ADSB)?is looking towards a new client base in countries in North Africa. Specialised in the construction, repairs and upgrades of both naval and commercial ships, ADSB said its order book for 2010 exceeds Dh4 billion.
Mohamed Salem Al Junaibi, General Manager ADSB, told Emirates Business that the first of the six most advanced warships worth $1bn (Dh3.6bn) – Beynouna will be launched in the second quarter of 2010.
"We are very optimistic about 2010 and the coming years. Being the only such company in the region with a capability to service both military and civilian clients, we have seen our business opportunities grow significantly over the past few years," said Junaibi.
ADSB recently announced net profit of Dh114.39 million on revenues of more than Dh1.16bn for 2009. The company's total assets stood at Dh2.2bn, a significant growth of 29 per cent in comparison to 2008.
"We also enjoy the privilege of having a great order book. The book orders were worth Dh3bn in 2009 alone and have a backlog of $4bn in 2010. Almost 80 per cent of our business is military, while 20 per cent is commercial," he added.
According to him, ADSB's facility in Mussafah in Abu Dhabi has the capacity to construct highly sophisticated complex vessels. "The company has the capability to supply, integrate and upgrade sophisticated state of the art combat systems plus the provision of full, throughout life, support of the platform and systems.
"We specialises in the construction of highly complex naval ships including the integration of weapon combat systems," he said.
The first of the six 71-metre long corvettes, the heavily armed surface combatant Baynunah warships will be ready for delivery in the summer of 2010, said Junaibi. He said the first vessel was built by Constructions Mécaniques de Normandie (CMN). Work of the remaining ships are progressing at ADSB's Mussafah yard in Abu Dhabi.
According to IHS Jane's, the first of the class was lowered into the water on a ship syncrolift monitored by senior UAE delegation including Armed Forces' Chief of Staff Lieutenant-General Hamad Thani Al Rumaithi and UAE Navy Chief of Staff Major General Ahmed Al Tunaiji.
"Setting-to-work and harbour trials activities have subsequently progressed in advance of sea trials, which commenced in mid-January 2010. An extensive programme of platform and combat system trials will last into 2011. On completion, the first of class will commence its delivery voyage to the UAE," said the report.
ADSB has clients from friendly countries across the region and is looking at expanding its client base outside. "We are currently working on some deliveries due to Bahrain. There is an immense opportunity in the market. North Africa is a market which we will be interested in targeting," he said.
In terms of commercial vessels, ADSB has several new building projects under development ranging from tug boats and dredgers to product carrying tankers.
"Our facilities accommodate new build commercial vessels including tug, pilot and work boats as well as supply and crew change boats. More complex projects have included dredgers and coastal tankers," said Junaibi.
"We secure long agreements with our clients. When it comes to commercial vehicles we do enjoy a long agreements with our clients here, especially the petroleum companies. We have an agreement with them that exceeds three years," he added.
ADSB, Junaibi said, has served UAE's national assets in terms of supplies to the navy, coast guards and critical mission infrastructure and marine infrastructure. "We are fortunate to be the source player in terms of new build, after sales support and maintenance upgrade," said Junaibi.
ADSB recently formed a joint venture with British Airspace to develop a logistics company responsible for giving after sales service.
The joint venture with BAE Systems established in July 2009 resulted in the setting up of a new company, Gulf Logistics and Naval Support.
It offers a complete range of integrated logistics support and training services as well as outsourcing solutions for base facilities.
Potential customers include navies, coast guards, marine police, homeland security organisations, special forces and other key commercial customers.
"We hold a 70 per cent shareholding while BAE Systems holds 30 per cent. We feel that such a move was very much necessary as the industry needs to support clients with regards to after sales support.
The idea is to support new partnerships and alliances in customer countries and the transfer of technologies, processes, systems and skills including the recruitment and training of the respective national workforces," Junaibi added.
Keep up with the latest business news from the region with the Emirates Business 24|7 daily newsletter. To subscribe to the newsletter, please click here.
Follow Emirates 24|7 on Google News.