Antwerp port begins to expand its global presence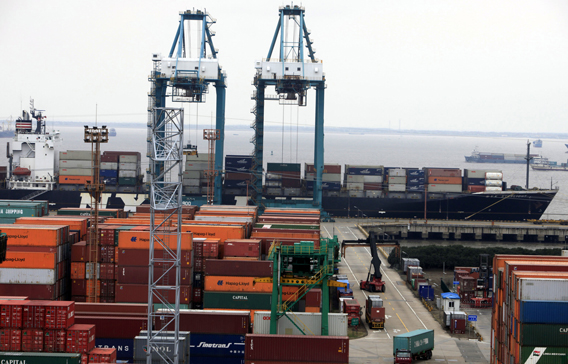 The port of Antwerp, the second-largest port in Europe, said its partnership with Oman to develop the port of Duqm is the first step towards expanding its presence worldwide.
A senior official of the Port of Antwerp International said it will play a prominent role in the development and operation of a large distribution hub in Duqm, under the terms of a joint venture signed on Sunday between Antwerp Port Authority and the Government of Oman.
This is the first foreign venture of Port of Antwerp, a subsidiary of the Port Authority set up to implement the strategy to strengthen the port's competitive position on a world scale "with the emphasis on cargo connections". The Port Authority will take on the Oman project in collaboration with Rent A Port within the "Consortium Antwerp Port".
Yannick Dufraimont, CEO of Port of Antwerp International, in a telephonic interview with Emirates Business said: Within the Middle East our focus for the time being will be mainly on Oman. We have been discussing with Oman officials since last year. We worked on the design of the new greenfield harbour. Work has already started. The dredging is almost complete. Now they are building the breakwaters," he said.
The Omani Government plans to build a port and industrial complex in Duqm, with strong emphasis on petrochemicals. An area of 21,000 hectares has been set aside for this, with 3,300 ha earmarked for a refinery and petrochemical complex and 116 ha for the port.
"We are not involved with the dry dock which will be ready by the end of this year. As for the port, the work is expected to be complete by the end of next year when it will be operational," he added.
In addition to exporting oil, the port will also concentrate on handling containers, conventional freight and bulk cargo. Space has been made available for a container terminal with an annual capacity of 200,000 TEU, which will act as a hub for trade between the Gulf, the Red Sea, the Far East, South-East Asia and East and South Africa.
"The government and Belgian port of Antwerp will each have 50 per cent shareholding in the new company called Port of Al Duqm," said a Reuters report quoting a statement from the Oman's Finance Ministry.
Meanwhile, the Port of Antwerp said it aims to systematically expand its presence outside Europe, more specifically in economic growth regions capable of generating trade to develop an international network of ports. Some of the strategic ideas for expansion are the Middle East, India, Sub-Saharan Africa and Brazil.
"We have identified four regions apart from the Middle East. We are working very hard on India, the second region. We are concentrating on Congo and western Africa. We have to strengthen our team for our Brazil initiatives," said Dufraimont. "We have started off our global initiative with the Middle East and will continue to work on the rest of the regions," he added.
Meanwhile, the second branch office of Antwerp Port Authority was started in Pune in India to target IT services, car production, manufacturing, biotechnology and other industries.
"Last week, we were part of a 300 strong business delegation that visited India for partnerships and developments. We were there to announce that we are ready to take stakes in the development of various ports, wherever the opportunities lie. We are looking to start the process with participation in one of the port developments in the West Coast and one in the East," he said.
When asked for specific names, he said: "It is too early to say. We do not have concrete names. Last week, we visited Gujarat and Mahatashtra. That would be a good place to start. However, we do not want to exclude other parts such as the South.
India recently announced that it plans to improve its port infrastructure with as many as 17 public private partnership (PPP) projects as part of the National Maritime Development Programme (NMDP).
Among the 17 projects that are to be awarded includes, cargo berth development at Paradip Port Trust, Tuticorin Port Trust, Mumbai Port, Kandla Port.
Development of container terminal will be undertaken at New Mangalore Port, Chennai Port, Jawaharlal Nehru Port and installation of mechanised handling facilities for fertilisers at Vishakhapatnam Port as well as setting up of single point mooring (SPM) and allied facilities at Kandla Port.
Chennai Port has proposed to develop mega container terminal under PPP mode at an estimated cost of Rs3.686 billion (Dh301 million). The capacity of berth is 48 million tonnes per annum. Tuticorin Port has also proposed to develop North Cargo Berth No II under PPP mode at an estimated cost of Rs33.21 million. The capacity of berth will be seven million tonnes per annum.
Meanwhile, the Port of Antwerp has begun talks with local companies for investment opportunities in building new ports in India.
"We have a list of financial partners who are willing to invest apart from several industrial partners. We have our own resources as well. In India, it is a long bidding process," said Dufraimont.
"Although we started the Duqm project with a new consortium, we could be looking at new partnerships in Brazil or in India.
"We can change partnerships based on the project. If we need container terminal specialists, then we will bring them along," he added.
Meanwhile, he said, the volumes at the Port of Antwerp have seen an increase since the beginning of 2010.
"The situation now is picking up compared to the end of 2008 and 2009. While we managed 190 million tonnes in 2008, the volumes went down to 160million tonnes in 2009. Although it has started to pick up it will not reach 2008 levels this year," he said.
"The main reason for the increase is because of the traffic from the Far East. During the remaining months we will see a small to moderate increase," Dufraimont added.
Follow Emirates 24|7 on Google News.