Baltic Trading may buy more ships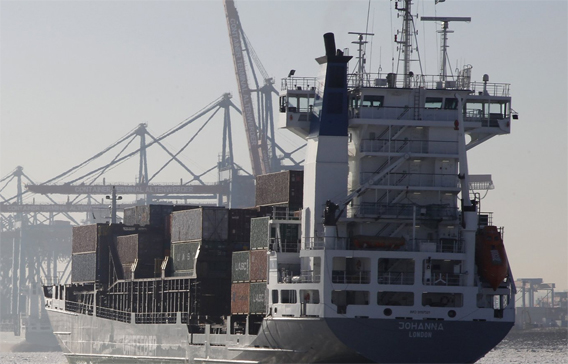 Baltic Trading, a newly listed shipping company controlled by Genco Shipping and Trading, may do a secondary offering this year to buy more ships, Chief Financial Officer John Wobensmith said.
The New York-based carrier of commodities such as iron ore and coal will put all its vessels in the spot market, a strategy opposite to that of Genco, and will maintain zero debt, Wobensmith said in his first interview after last month's IPO.
"Investors have an appetite to get spot exposure, and there really isn't any other drybulk company out there right now that can give you that spot exposure," said Wobensmith, who is also Genco's Chief Financial Officer. "The whole concept of Baltic is not just to be a spot player, but to give a good payback on dividend and have no leverage."
Baltic Trading raised $228 million (Dh836.76m) in its IPO, pricing the 16.3 million common shares at $14 each, the lower end of the target range of $14 to $16. The company used the proceeds in the purchase of six ships.
Baltic fell 10 cents, or 0.7 per cent, to $13.90 on the New York Stock Exchange yesterday. The shares fell 0.3 per cent in their first day of trading March 10, reached as high as $14.27 on March 11 and dropped as low as $13.05 on March 19.
"I don't think you ever expect shares to trade below IPO," Wobensmith said. "We were surprised by it."
Baltic Trading is "an equity-financed company" and will use debt only as a short-term bridge facility, Wobensmith said, adding that more equity offerings are planned to expand the fleet.
"We are definitely planning this year, but it all comes down to finding the right assets, being comfortable with what you are paying and the return numbers, and obviously the equity market," he said.
Baltic Trading's initial fleet includes two 2010-built capesize vessels, which can carry 177,000 metric tonnes of commodities, and four 2009-built supramaxes, which can haul 53,000 metric tonnes of commodities.
Because of zero interest costs, the break-even rate for the capesize will be relatively lower at about $7,000 a day, Wobensmith said. Capesize rates averaged $35,250 a day as of April 1, according to the Baltic Exchange. The Baltic Capesize Index fell 1.5 per cent to 3,377 yesterday.
Baltic Index declines
The Baltic Dry Index fell again as rates dropped to hire larger iron-ore and coal transporters on trans-Atlantic voyages on Tuesday.
The index tracking transport costs on international trade routes declined 10 points, or 0.3 per cent, to 2,981 points, according to the Baltic Exchange. Rates to charter a capesize ship, the biggest in the gauge, for a 30- to 45-day Atlantic Ocean trip starting and ending in Western Europe slid 3.6 per cent to $28,136 a day, the lowest since September 25.
Shipping rates may find support after iron-ore producer Vale said it switched to quarterly supply accords from annual agreements, according to Dahlman Rose. More ore is hauled at sea than any other dry-bulk good. The change permits a "more flexible approach", said Vale, the world's biggest producer of the steelmaking raw material.
"With more stability and increased visibility into iron-ore pricing, we believe the dry-bulk market can begin to better reflect the stronger environment," Omar Nokta, head of research at Dahlman in New York, said in an e-mailed note. The announcement from Vale was "a positive step", he said.
Rates to hire capesizes, capable of hauling 155,000 metric-tonne cargoes, fell 2.4 per cent on Tuesday to $29,919 a day. They will average $35,750 a day this quarter, according to forward freight agreement data from Imarex ASA. FFAs are used to bet on or hedge against future movements in shipping hire rates.
Follow Emirates 24|7 on Google News.