Drop in Q4 profit not to hit TNT expansion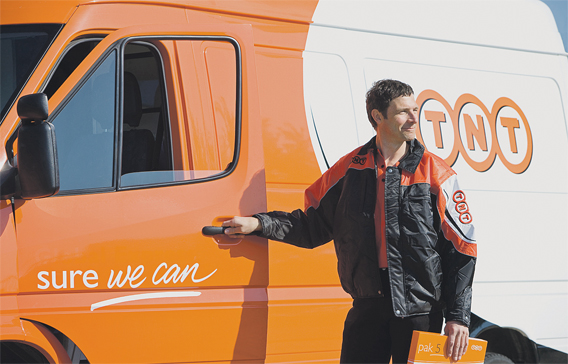 TNT, one of the leading express delivery companies, will continue to stick to its expansion plans as specified in its Vision 2015 strategy, a spokesperson told Emirates Business.
The Netherlands-based post and express mail company has reported a 58 per cent fall in net profit in the fourth quarter.
Net income declined to €25 million (Dh124.88m) from €59m a year ago. Sales rose 0.5 per cent to €2.9bn.
In a telephone interview, the company spokesperson told this newspaper from its headquarters in Netherlands said the performance of emerging markets has been better.
"This includes the Middle East market. Apart from Asia and South America. The Middle East market performed well last year and increasingly improved its performance," said Mark Potma.
"The company is currently focusing on organic growth in the areas that we designated in the Vision 2015," he said.
According to him, the company is moving forward in a cautious way.
"In Express, we expect to grow at single digit. We expect most growth to come from the international market specially in the economy express sector, and our revenues are expected to be above 2009 levels. However we will continue to face pressure from price mix, weight increase and cost inflation," he added.
About revenue and profit, Potma said the company expects the coming year to be better. "We will continue to focus on cost. We are looking into network optimisation and thereby we expect our profitability to increase," he said.
The company, in a statement, said the reported revenues increased 0.5 per cent to €2.94 billion. Reported operating income declined 20 per cent to €128m. Profit attributable to shareholders came in at €25m compared to €59m in Q4 of 2008. Both were impacted by significant one-offs and impairments.
Net cash from operating activities was €352m, in line with last year. Net debt decreased from approximately €1.4bn at the end of Q3 2009 to approximately €1.1bn.
Peter Bakker, CEO, TNT, said: "Operating results in Q4 2009 were relatively solid in a trading environment that continued to improve, leading for the first time since Q2 of 2008 to a higher group operating income than the corresponding quarter last year.
"However, this trading environment is still clearly below 2006 economic activity levels. In the fourth quarter and the first weeks of 2010, TNT took concrete steps towards implementing the Vision 2015 strategy by, among other things, exiting the first of a number of the European Mail Networks and simultaneously entering into a German partnership.
"We are also pushing forward in implementing the five focus areas as announced on the December 3 analysts' meeting – parcels, freight, emerging platforms, special delivery solutions and Mail NL," said Bakker.
TNT also aims to improve CO2 efficiency by 45 per cent by 2020. "We remain confident of our strategic positioning to capitalise on an economic rebound and eventual recovery. The first weeks of 2010 make me somewhat optimistic on improving economic conditions. However, we will continue to manage our group from cautious assumptions, leading to continued strong focus on cash and cost," he said.
Keep up with the latest business news from the region with the Emirates Business 24|7 daily newsletter. To subscribe to the newsletter, please click here.
Follow Emirates 24|7 on Google News.