Firms can save 30% using quality software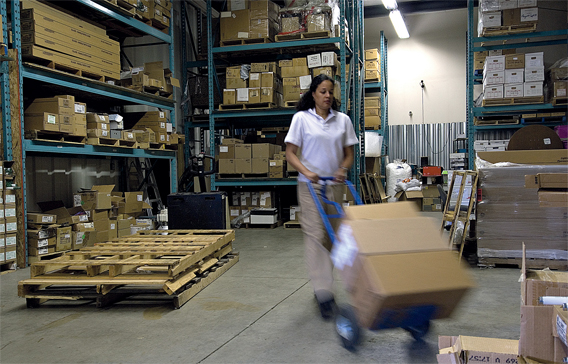 Logistics and supply chain management companies can save up to 30 per cent of cost by using effective applications to manage their systems, a senior official of Infor has said.
Paul Hammond, Infor's General Manager in the Middle East yesterday told Emirates Business that the company is expecting a double digit growth and plans to expand its presence in the Middle East.
The $2 billion (Dh7.34bn) company develops and customises software for various sectors including supply chain management and shipbuilding firms.
"We see customers make a saving in their supply chain within a range of 15 to 30 per cent in a short time," said Hammond.
The privately-owned firm has plans to go public and "it will happen within this calender year", said the general manager.
"Like many organisations, a public company will give us the extra funding and the transparency that the market requires," he said.
With revenues exceeding $2.3bn, the company has more than 125 offices in 34 countries with more than 70,000 customers worldwide. "Last year our customer base grew by about 2,200. Middle East is still emerging for us. We have more than 800 customers here. We are getting an extra investment for the region and that will make us even better positioned to expand here," said Hammond.
Last week, Infor held a roadshow in Saudi Arabia and the UAE to "educating our distribution and manufacturing customers about the latest technology. The response in all the cities – Jeddah, Riyadh, Al Khobar, Dubai and Abu Dhabi was great", he said.
The company operates with partners for different regions and brands. "Our model in the Middle East is that we have a channel only for distribution network – purely through partners. In the UAE, we have partnered with Span which has specialised in everything to do with warehousing.
"For example, 80 per cent of warehouses in Jebel Ali are using Infor technology to run their warehouse management," he said.
"During that past 18 months we have recruited five partners across the region and we will continue the recruitment process."
Right now Infor is heavily focused on Saudi Arabia and Qatar. "We don't see the current situation as a crisis. For us the economic downturn is still an opportunity. In Saudi Arabia, we are experiencing explosive growth. Where companies are taking stock of the opportunities.
"They are also very conscious in addressing the cost issue. We have solutions that help customers control those costs. We will continue to grow at double digits in 2010," he said.
Infor's ERP SyteLine Shipping and Supply Chain Logistics and Inventory Management software help companies reduce supply chain operational costs for increased profitability, improves customer service, manages growth and expansion.
Using integrated tools that automate shipping steps, ERP SyteLine Shipping and Logistics "improves efficiency, lowers freight expenses and increases visibility across multiple functions and departments".
The system enables companies to respond to requirements for special labelling, paperwork and other services, enhancing customer service. "In addition, if users do not select their preferred shipping carrier or service, the system will automatically select the best option to fulfil the order, " said a company statement. The software is available in three options: Standard Shipping, Advanced Shipping and Shipping, Warehouse and Mobile.
Follow Emirates 24|7 on Google News.