Fraport 2009 income drops 20%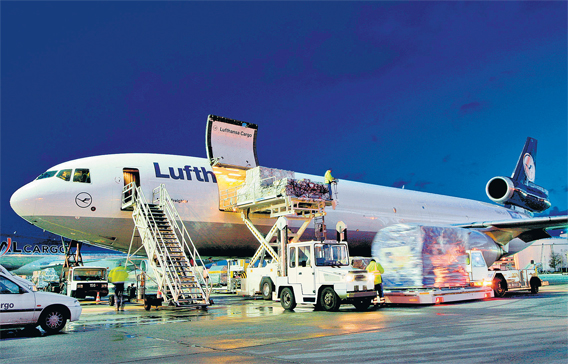 German airport operator Fraport says 2009 net income dropped 20 per cent to $214 million (Dh785.8m).
FRA's airfreight throughput jumped in January 2010 by 32.2 per cent year-on-year to 157,637 metric tonnes – some 1,600 metric tonnes more than in the previous January record month of 2008.
"The best thing about last year's financial results is our outlook for 2010," said Fraport AG executive board Chairman Stefan Schulte as he opened the annual press conference for fiscal year 2009 and the outlook for 2010.
According to Fraport's CEO, the first 21 days of February were still characterised by the growth momentum of the past weeks and particularly January 2010.
"We are doubly pleased by this bullish growth in airfreight, which is always an early indicator of economic performance: as a clear signal for the German economy as well as the world economy, and as a sign of the unchanging international division of labour," said Schulte. The growth trend in airfreight is to continue.
The difficult crisis year is reflected in the 2009 traffic figures. Airfreight throughput declined by 10.1 per cent year-on-year to more than 1.8 million metric tonnes. Airmail tonnage shrank by 11.3 per cent to 80,174 metric tonnes. Maximum takeoff weights weakened by 4.2 per cent to 27,186,902 metric tonnes.
"But 2009 was also a year for setting a fundamental and positive course for the company's future," Schulte said. Thus, a solution for the deficit problem at Fraport's ground handling services division has been found, which is vital for maintaining smooth functioning operational processes at this vital Group segment.
"Our 'pact for the future' agreement provides both staff and the company with new perspectives, and we can maintain our integrated business model well into the future," said Schulte. Fraport expects to achieve annual savings of up to €42m (Dh210m) over the span of the agreement to 2018.
Keep up with the latest business news from the region with the Emirates Business 24|7 daily newsletter. To subscribe to the newsletter, please click here.
Follow Emirates 24|7 on Google News.