Global shipping outlook stable, but oversupply to hit containers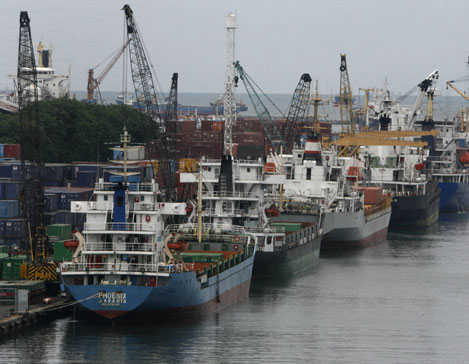 The fundamental credit outlook for the global shipping industry is stable, reflecting the fact that conditions are unlikely to deteriorate further in the sector, says Moody's Investors Service in a new Industry Outlook. However, the rating agency cautions that some segments, especially containers, will continue to under-perform throughout 2010.
"While the stable outlook is based on the belief that the main industry drivers are not likely to deteriorate further, we do not anticipate a full recovery of the main players to start until the end of 2011," says Marco Vetulli, a Moody's Vice-President-Senior Credit Officer and author of the report. "Furthermore, we believe the landscape of the industry may be quite different on the other side of the recovery."
In the report, Moody's notes that the long-term drivers of growth remain robust for shippers involved in transporting commodities such as coal, iron ore, oil and grain. These sectors will absorb the number of new vessels scheduled to be on the water in the next few years relatively easily. The rating agency says that although the outlook for container shipping is gloomier because of oversupply, there are other considerations supporting its stable outlook. These include a boost in demand due to an increase in containerisation, which in turn is driven by improvements in ports in emerging economies. In addition, the three largest ports in the world – Singapore, Shanghai and Hong Kong – have all seen some pick-up in throughput in the past few months.
"Sustainable improvement will require growth in trade flows followed by reduction in capacity, both of which will take some time," cautions Vetulli. "This means shipping industry dynamics could remain fragile for a number of quarters."
However, the rating agency says the stronger companies will recover more quickly than the industry average.
Keep up with the latest business news from the region with the Emirates Business 24|7 daily newsletter. To subscribe to the newsletter, please click here.
Follow Emirates 24|7 on Google News.