Maximus to buy two freighters worth $50m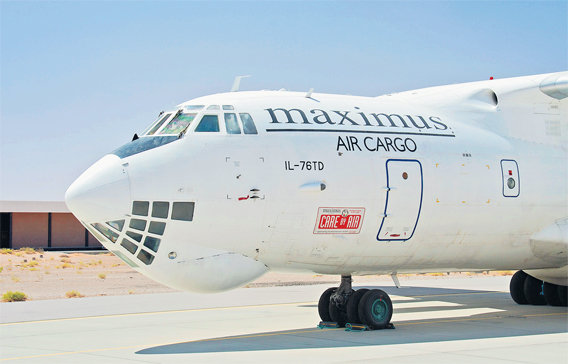 Abu Dhabi-based Maximus Air Cargo says it is investing $50 million (Dh183bn) in purchasing two additional Airbus freighter aircraft in 2010 and plans to expand into other GCC countries.
Fathi Buhazza, President and CEO of Maximus Air Cargo, yesterday told Emirates Business that the company had a turnover of $100m in 2009 with a nine to 10 per cent profit margin.
Maximus, which is owned by the Abu Dhabi Aviation Group and listed on the Abu Dhabi Securities Exchange, said its decision to invest in additional cargo flights is due to the success of the Aircraft Crew Maintenance and Insurance (ACMI).
Maximus cargo was established in July 2005 and has a fleet of eight aircraft.
"Our business model is quite unique. We are into the charter market. We respond to requests at short notice. We are also in the business of wet leasing or ACMI. We have leased out two aircraft for Etihad Crystal Cargo. It has been quite rewarding. Each flight is operating for almost 300 hours every month," said Buhazza.
According to him, the ACMI model with Etihad has been such a great success that they are currently negotiating with other airlines. "We are also negotiating with other scheduled services, especially with more new aircraft coming in. ACMI is very beneficial to airlines. We see a big future in this region for growth for ACMI-type operations," he said.
"When it comes to the service, we operate them under our operating certificate. We maintain the aircraft and the crew and take care of the insurance. We lease it out to the airline to have a commercial control over them. All they have to do is to concentrate on sales. What makes it more beneficial to airlines is the reliability of the partner," he said.
The company has a fleet that includes Russian-type aircraft such as the Antonoc 124 and Ilyushin IL-76.
"The Antonoc 124 is one of the largest cargo aircraft in the world and has a 120-tonne payload. The Ilyushin IL-76 has a 50-tonne payload. We operate two Airbus aircraft – A300 and A600 – which are currently flying for Etihad. We also have two Lockheed L382 Hercules aircraft under the UAE General Civil Aviation Authority," said Buhazza.
According to him, the company started with a capital of $41m. "In June 2008, we were acquired by the Abu Dhabi Aviation Group, which also owns Royal Jet apart from the helicopter fleet. The holding company is listed on the Abu Dhabi Securities Exchange.
"Today, we are talking in addition of $200m [capital]. We have been earning profits since the very first year. Our goal is to be a major player in the UAE air cargo industry," he said.
Although last year witnessed slow growth rate with several companies getting affected, Maximus has been doing well, he said. "The charter model was not affected by the recession. We did make a total sale of $100m with a nine to 10 per cent profit margin in 2009 compared to $116m in 2008. The profit margin definitely reduced," he added.
The introduction of Airbus and the deal with Etihad made the company to further upgrade the systems. "We invested in Aims, a flight operation control software that manages the crew, aircraft and maintenance. This itself cost us €500,000 (Dh2.5m). We also increased our pilots from five sets to 12-and-a-half sets," said Buhazza.
Iata recently said a positive growth in air cargo, especially in the past three months. "It is very encouraging. The cargo activity will pick up but may not be to the levels of 2008. But the past two months have been very rewarding for us and exceeded our planned budget," he said.
The company, he said, did not measure flights by tonnage. "One of the markets we are in is specially the over size cargo. "We basically charter by space and not by weight. The business is picking up now. We are planning to expand our business outside the UAE mainly in the GCC. That is the main reason we are planning to purchase two additional aircrafts," he said, and added several banks have expressed willingness to finance the purchase.
Keep up with the latest business news from the region with the Emirates Business 24|7 daily newsletter. To subscribe to the newsletter, please click here.
Follow Emirates 24|7 on Google News.