Naval presence cuts regional piracy by half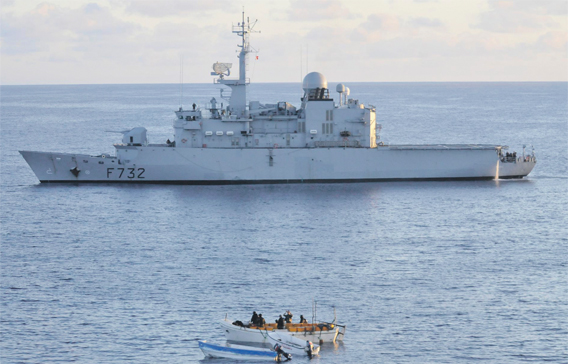 Pirate activity in the Gulf of Aden has reduced by half following aggressive tactics being adopted by various naval forces.
An international fleet of warships has been deployed to attack and destroy pirate vessels and the new strategy would be continued with more aggression, spokesperson for the European Naval Force (EU NAVFOR), John Harbour has said.
Speaking to Emirates Business over telephone, Harbour said: the new strategy has dealt a major blow to pirates and has sent a strong signal that they cannot continue to rule the sea.
"We are taking the fight to the pirates," he said. "They had the initiative but now we are putting our ships near the coast to stop them from leaving the pirate camps. When they do manage to escape we track them down using the airpower.
"In the past three weeks, we have already managed to take 17 pirate action groups into custody. The number of hijackings have already reduced by 50 per cent. It is only a short period but the results are there to be seen," said Harbour.
The aggressive posture will continue until the problem of piracy is neutralised, he said. "We will continue the strategy and the maintain aggressive stand. If we come across pirate groups, we will destroy their boats, seize all equipment and will either let the pirates go if there is no direct evidence of an attack or will arrest and send them for prosecution. They will not be allowed to rule the sea," said Harbour.
According to reports, the new tactics by the EU NAVFOR comes after Spain – which currently holds the EU's rotating presidency, and whose fishing vessels are frequent pirate targets – encouraged more aggressive pursuit of pirates and the coalition obtained more aircraft and other military assets.
Meanwhile, according to Royal Navy's Lieutenant Commander CF Woodman, UKMCC Media Operations Officer, the Combined Task Force (CTF) 151 – a multinational task force – has been conducting counter-piracy operations in and around the Gulf of Aden, Arabian Sea, the Indian Ocean and the Red Sea, with an average of 24 Coalition (CMF) and non-coalition warships and aircraft patrolling the region at any given time [including: Coalition, EU, Nato and other international navies].
Established in January 2009, by the Combined Maritime Forces (CMF) headquartered in Manama, Bahrain, the CTF 151 has been conducting counter piracy operations under a mission-based mandate to actively deter, disrupt and suppress piracy in order to protect global maritime security and secure freedom of navigation. The CTF 151 has been following this mission since its inception.
"The Combined Maritime Forces, and the CTF 151 in particular, are co-ordinating and deconflicting operations with the EU and Nato," said Woodman. "We have liaison officers from both organisations on our staff, and we work closely to ensure that we maximise the apportionment of our ships and aircraft. We have also co-ordinated with other navies operating independently in the region in addition to the EU and Nato."
In an advice to shipping companies, she said: "They cannot underestimate their power to prevent and defend against attacks, and they should take measures recommended by the IMO and their flag states to deter acts of piracy. All commercial and civilian vessels transiting the Internationally Recommended Transit Corridor are encouraged to incorporate counter-piracy 'best management practices' as issued by the IMO to help prevent acts of piracy when operating in dangerous waters.
"Commercial shipping must not underestimate its own power to prevent attacks, and they should take those measures onboard their ships to deter acts of piracy. It is also recommended that all ships transiting the area report to the United Kingdom Maritime Trade Operations (UKMTO) for updates and advice."
In a message to the ship owners from the region, Harbour said: "Ship owners must register with the Maritime Security Centre, Horn of Africa, before passing through the Gulf of Aden and also take self protection measures. The EU Naval force, along with other coalition forces, has adopted aggressive tactics to take the initiative away from the pirates."
About half of last year's 47 successful hijackings happened during March, April and May.
Meanwhile, according to a Reuters report, the number and scope of pirate attacks is seen increasing worldwide and could trigger more joint military operations to keep shipping lanes safe.
Nato's Commodore Hans Christian Helseth is reported to have said that attacks around the Horn of Africa will become more frequent in the coming months due to less stormy weather and likely spread further east towards India and south towards Madagascar. "We have now a three-month period between the winter and summer monsoons and in this period, pirates are departing (more often) with fuel and supply to give themselves a considerable range into the Indian Ocean," Helseth said on the sidelines of a seminar on piracy in the Norwegian capital.
"During the monsoons, the seas are rougher... It is tough for these small vessels to deal with two-metre waves," he said.
Helseth is Deputy Chief-of-Staff of Operations at Nato's Allied Maritime Command at Northwood, near London, and a leader of operation Ocean Shield – the North Atlantic military alliance's counter-piracy activities in the Indian Ocean.
PIRACY FACTS
Globally, in 2009, there were 406 reported incidents, in which 153 vessels were boarded and 49 hijacked. There were 84 attempted attacks and 120 vessels were fired on. A total of 1,052 crew members were taken hostage. At least 68 crew members were injured and eight were killed.
In all, Somali pirates were held responsible for 217 acts of piracy in 2009, in which 47 vessels were hijacked and 867 crew members taken hostage.
In 2008, 111 vessels were targeted by Somali pirates resulting in 42 hijackings. Although the number of 2009 incidents has almost doubled, the number of successful hijackings is proportionately less.
Nearly 20,000 ships pass through the Gulf of Aden each year.
Piracy incidents
- Socotra 1: Seized on December 25, 2009: The Yemeni-owned ship was captured in the Gulf of Aden after it left the port of Alshahr in the eastern province of Hadramout. There were six Yemeni crew on board.
- St. James Park: Seized on December 28, 2009. The British-flagged 13,924 dwt chemical tanker was bound for Thailand from Spain with a chemical used in plastics production when it sent a distress signal from the Gulf of Aden. Its 26 crew members were from Bulgaria, Georgia, India, the Philippines, Poland, Romania, Russia, Turkey and Ukraine.
- Asian Glory: Seized on January 1, 2010. The British-flagged vehicle carrier was hijacked about 900 miles north of the Seychelles. The 25 member crew consisted of eight Bulgarians, including the captain, 10 Ukrainians, five Indians and two Romanians.
- Rim: Seized on February 2. The 4,800-tonne Libyan-owned cargo ship was seized in the strategic channel south of Yemen. It said it was flying a North Korean flag, but was owned by White Sea Shipping of Tripoli. It carried a crew of at least 10, all Syrian.
- Al Nisr Al Saudi: Seized on March 1. The Saudi-owned 5,136 dwt tanker was on its way from Japan to Jeddah with one Greek and 13 Sri Lankan crew members.
- UBT Ocean: Seized on March 5. Pirates hijacked the Marshall-Islands-registered tanker off Madagascar. It was carrying fuel oil from the United Arab Emirates to Tanzania and had a crew of 21. The 9,000 dwt tanker is owned by Norwegian company Brovigtank.
- Sakoba: Seized March. The Spanish-owned fishing vessel carried Kenyans, one Spaniard, a Pole, one Cape Verdean, a Namibian and two Senegalese.
Follow Emirates 24|7 on Google News.