Tiny cameras to hunt speedsters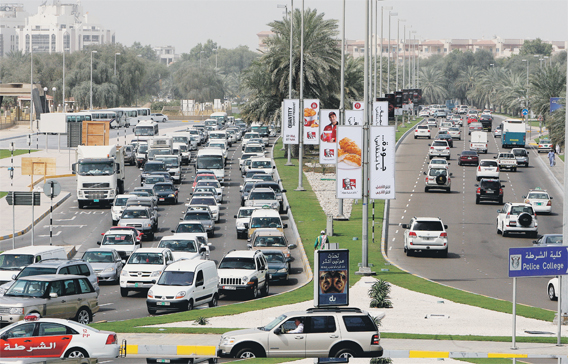 Two traffic policemen parked their traditional red-and-white car near a busy street in Abu Dhabi and got out with a small bag and a tripod. They crossed to the elevated tree-covered and grassy pavement in the middle of the road, unzipped the bag, pulled out a tiny camera and mounted it on the tripod which they concealed under a tree to hunt speeding motorists.
The uniformed policemen waited for a few minutes before they got into their car and drove away, leaving the little black camera flashing incessantly at cars exceeding the speed limits and warning others to abruptly slow down.
The new sophisticated compact cameras which can hardly be detected by drivers are part of a campaign by the Abu Dhabi Traffic Police to curb road violations following a 70 per cent increase in speed offences in 2009.
Police figures showed a staggering 2.22 million traffic offences were committed in the capital last year, including nearly 1.62 million related to excessive speed.
"There was an increase of around 70 per cent in speeding offences in Abu Dhabi last year… we issued around 1.629 million fines for speeding out of the total 2.22 million traffic offences," said Colonel Hamad Adeel Al Shamsi, Director of Traffic and Patrols Department at the Abu Dhabi Police.
"Non-compliance with speed limits is the main cause of traffic accidents which result in deaths and sever injuries. Speeding accounted for 33 deaths and 22 severe injuries last year," he told a recent seminar in Abu Dhabi.
Abu Dhabi has been locked in a drive to crackdown on traffic offenders following a surge in road offences that have resulted in hundreds of casualties.
The campaign included an increase in police patrols on roads, expansion of radar networks and intensifying penalties against offences.
Despite its dangers, speeding has been excluded from offences that involve black points but fines have largely been increased. Police said they had decided to plant tiny cameras under trees along with the existing large fixed speed cameras after the increase in fines failed to deter motorists. They noted that most drivers know the location of fixed cameras and can avoid being spotted by simply slowing down on that part of the road.
"Fixed cameras are no longer enough… these small cameras could surprise the drivers who would not know where they are planted," a policeman said. "By shifting the location of these cameras continuously, drivers will be more careful and will drive within the speed limits."
Abu Dhabi police have used mobile speed cameras on roads outside the capital and motorways leading to other emirates but have just started deploying them heavily inside the city for the first time. The police usually pick busy long streets inside the city of more than one million people and avoid small roads and residential areas, where most motorists would normally drive carefully.
While the deployment of the tiny cameras on roads has become a talk of the town, most drivers do not know where they are planted. "They usually install it behind a tree or among plants…it is very small and is mounted on a tripod…you can see it when you come close but by then it is too late as it will catch you," said Hani Zeidan, an Abu Dhabi resident.
"I was caught by this camera once and now I am driving very carefully. The fine is very costly now… it has no black points but if you are caught five or six times a month, you will end up paying all your salary in fines."
The mobile cameras are part of an overall strategy by the Abu Dhabi Police to limit road accidents and put an end to reckless driving. "There will more extensive police patrols, under cover patrols, traffic CID and comprehensive police stations traffic control campaigns to curb the phenomenon.
Police will concentrate on hot spots round the clock," Colonel Hamad said.
"The aim is to spread awareness on the road and among offending motorists. Paying the fine but not changing your behaviour is not enough. The offender should blame himself first before being blamed by the Police Department."
Colonel Hamad cautioned motorists who do not comply with traffic rules that there will be undercover patrols inside the capital and on highways. "Offences such as using expired tires, jumping the red light, non-adherence to lanes and traffic signs and non-attentiveness will be strictly monitored," he said.
In September, the Ministry of Interior launched a campaign under the theme "Together to Reduce Traffic Accidents", which continued until the end of February. More campaigns are planned this year.
Abu Dhabi, which has one of the highest per capita incomes in the world, also has one of the highest road accident rates. Police sources have attributed the high accident rate to non-compliance with traffic rules, mainly speed driving, jumping the red signal, reckless driving and other offences.
Introduction of stiffer penalties, installation of more speed cameras and reinforcement of police patrols have failed to deter drivers and cut accident rates, which totalled around 10,500 in Abu Dhabi and the other emirates last year.
Interior Ministry figures showed an average 29 road mishaps in the UAE daily last year, resulting in the death of 1,071 people during the year.
Keep up with the latest business news from the region with the Emirates Business 24|7 daily newsletter. To subscribe to the newsletter, please click here.
Follow Emirates 24|7 on Google News.