TNT's business in UAE sees Q3 upturn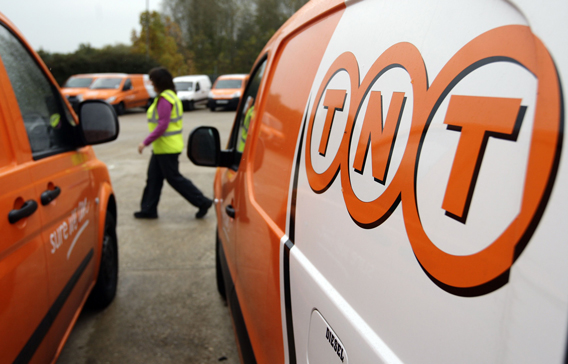 Dutch post and logistics firm TNT said business in the UAE has seen an upturn during the past three months of 2010, with signs clearly pointing to a recovery.
A senior company official told Emirates Business that while it would be difficult to pinpoint the exact reasons for the growth, the number of shipments had increased in the first quarter compared to the same period last year.
"The past three months has been very healthy. We have seen a significant upturn in trade and that has been from all sections of our business," said Mark Woodcock, Sales and Commercial Director, TNT UAE.
The trend, according to him, could continue during the rest of the year. "We believe that there is a recovery in the market. It is hard to pin point why that is. People are still guarded. However, in general terms most people are shipping more than they were last year," he added.
Meanwhile, TNT on Thursday announced that it is considering a listing or partnerships for its mail unit.
In an announcement made during its annual general meeting, it said that it is taking steps to separate the firm's mail business from its express division.
In order to explore the best structure in which a continued success for the mail business could be achieved, an "internal legal and financial carve-out" would be realised said the management adding that it would also pursue partnership discussions and assess alternative positions which includes a partial listing or IPO of the mail business of TNT.
According to Reuters increased competition due to European mail liberalisation and a rise in electronic communications have seen TNT, Europe's second-largest mail and delivery firm after Deutsche Post struggle with volumes and costs in its mail unit. TNT shares closed up 5.5 per cent at €22.81 (Dh113), making it the top gainer on the Amsterdam blue-chip index AEX, which closed down 0.85 per cent.
"A lot of the reaction in the stock is based on takeover speculation for TNT's express unit, as separation from mail would make this easier, and further speculation could push the share price into the high 20s," said ING analyst Axel Funhoff.
"They could try an initial public offering for mail, but they would have to give a good dividend yield, I think, of around five per cent. They could fetch more if they sold to private equity," added Funhoff, who has an enterprise valuation on the mail unit of between €3 billion and €3.5bn.
KBC analyst Dieter Furniere estimates the mail units enterprise value to be €3.4bn. TNT's management has already held strategy talks with an activist shareholders' consortium comprising Jana Partners and Canadian asset manager Alberta Investment Management Corporation, which see value in splitting off the express and mail units.
TNT Chief Executive Peter Bakker said the move to carve out the mail unit, a preparatory step for any equity sale in the division, is not due to shareholder activism.
"From my vantage point, there is no shareholder pressure. There are, of course, shareholders who have made their views known," Bakker told reporters on a conference call.
"Structurally, post is in decline and that poses challenges," he said.
Bakker said he is open to discussions with potential buyers of TNT's express unit, which has been expanding in China, India and Latin America. But he played down the likelihood of a bid, pointing out that rumours of interest had surfaced in the past, but without result.
US rivals FedEx and United Parcel Service in 2008 were rumoured to be interested in TNT's express unit.
The Dutch company relies on express for close to two-thirds of its revenues; and with volumes in mail falling, Bakker said that in five years up to 90 per cent of revenues could be coming from the express unit.
In the latest sign that TNT faces more shareholder scrutiny, a proposal by management to retain the so-called "large company" regime, in which a supervisory board, rather than shareholders, largely oversees the management board, was rejected in the company's annual general meeting. Bakker said the separation of the mail unit from the group could be completed this year, but any process for a partnership or an IPO would take more time.
He said TNT was not in discussions with any rivals about potential partnerships.
A spokesman for Deutsche Post declined to comment on whether the group was interested in TNT's mail arm.
If there were proceeds from selling the mail unit, or a stake in it, TNT could return some of the funds to shareholders and re-invest a part of it, Bakker said, adding that a total sale was not the most likely option. TNT also highlighted the challenges its mail unit faces. Addressed volumes in the first quarter declined between seven and nine per cent from the previous year.
However, it said mail operating income is expected to improve year-on-year in the quarter due to more working days, lower pension costs and significantly better performance from its mail and parcels operations outside the Netherlands.
The operating income for the quarter in express is expected to show a significant improvement over the prior year on stronger volumes and good cost control.
Follow Emirates 24|7 on Google News.