2010 will put Arab markets back on international radar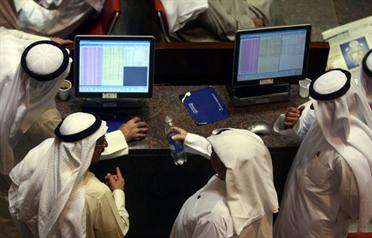 Arab markets will be able to leave behind issues related to over-leveraging and real estate and show strong performance in 2010. Markets will attract much stronger interest from global investors as compared to 2009, finance industry players told Emirates Business.

"The west has realised that the future is in the East, be it the Middle East or the BRIC (Brazil, Russia, India, China) countries. Global focus is shifting to this direction. The UAE is in a prime, easily accessible location, and its laws are straightforward," said Amani Choudhry, Managing Director, Mayfair Wealth Management.

Investor confidence will be more positive by the third quarter of 2010 and institutional investors are likely to be more aggressive in their approach. The year will also see organisations focusing more on managing their risks, analysts said.

"The main theme for 2010 will be the return to normalcy. We will leave behind the past two years' gloomy thinking and return to a rational assessment of investment opportunities," said Zin Bekkali, CEO, Silk Invest.

"Emerging market equities will be preferred and Asian, Arab and African markets are typically poised to do well. Emerging markets have not been impacted too much by the downturn and will continue profiting from their long-term convergence trend. Asian, Arab and African markets will do especially well. These three regions account today for around 46 per cent of world GDP (gross domestic product), though historically this was close to 80 per cent.

"Catalysts for good returns during 2010 in the three regions will differ. Arab markets should finally leave behind issues related to real estate and over-leverage. This should lead to a rally in both Arab equity and fixed income markets," he added.

In terms of asset categories, equities are likely to stay the preferred option, analysts opined. "We favour equities but are looking to start selling into a strong market in Q1 2010. As of Q2 2010, we should be underweight stocks and favour government bonds.

"We are not looking into gold as an option but it should perform better than commodities and real estate, which will suffer if the cycle goes into reverse. Within stocks, we would rotate into defensive sectors such as telecoms and consumer staples and underweight consumer cyclicals and financials, " said Rohit Walia, Executive Vice Chairman and CEO, Bank Sarasin-Alpen (ME) Limited and Alpen Capital (ME) Limited.

Industry analysts expect overcautious investors who have been holding on to cash, to increase their allocation to active fund managers and take some risks by the third quarter of the year.

The first two quarters are likely to see investors emphasizing on liquidity in their investments, analysts predicted. "At the moment most clients are pushing on liquidity and want easy access to money. Right now we are focusing on investments in gold, precious metals, foreign exchange," said Choudhry.

Analysts said confidence was returning gradually and would show positive results in 2010. "We look forward to an improved scenario," said Hedi Ben Mlouka, Managing Director of Duet Group. Higher confidence would lead to a better market environment for asset managers, observers felt.

"We expect investors to increase their allocation to active fund managers and risky asset classes. Many investors used passive indexing strategies to return to the market in 2009 and we believe these investors will allocate back to active fund managers in 2010," said Bekkali.

Analysts also expect institutional investors to be more aggressive in their decisions during 2010. "Many institutional investors have missed part of the recovery that global markets experienced and will be keen to invest more aggressively in 2010," said Bekkali.

Interest from global investors is expected to be more encouraging when compared to 2009 but a lot will depend on local investors activity, analysts said. "Low valuations are putting the region back on the radar screen of international investors. Foreign investors will however only start to become more active if local investors return to the market themselves.

"The good news is that foreign investors have become more realistic and understand better that there should be room for success and failure in these markets.

"Companies will continue with their expansion plans in the coming year. We are also planning moderate expansion and are looking at asset management business," Mlouka said.

"Tight credit markets suggest that regional businesses may turn to local equity markets for growth capital. Many family-owned businesses across the GCC put IPO plans on hold during the downturn. They now require capital and anecdotal evidence suggests that investors are ready to back strong local businesses at sensible valuations," said Oliver Schutzmann of Shuaa Capital.

Greater focus on risk management and increased regulation is expected in 2010. "Having learnt their lesson from the economic crisis, 2010 will see an increased focus on risk management," said Saad Maniar, Managing Partner, Horwath Mak.

"Earlier, risk management was just one of the functions, not a focus area. But this year, that will be a big change." Risk consultancy business, as a result, will grow in 2010.

"At Horwath Mak, we expect about 10 per cent growth, in line with industry growth of eight per cent to 10 per cent in the coming year. Also, the function of risk management will be seen moving to personnel in senior positions such as the CEO, Maniar said.

The financial sector can expect higher regulation as organisations and regulatory bodies pay more attention to strengthening fundamentals.

Raising capital and liquidity ratios is likely to be a major focus area. "Finance industry will face strong headwinds from regulatory bodies requiring them to raise capital and liquidity ratios," pointed out Walia.

Levels of Non Performing Loans (NPLs) have been rising and analysts expect these to peak in 2010 and impact bank balance sheets. Banks in the region though will be able to sail through, they said.

"Write-offs from the recession will continue to mount and will impair banks' ability to continue lending. However, low central bank interest rates will help them over this difficult period," said Walia.

By Q3, analysts expect a more positive scenario. Choudhry opined that government measures would play a significant role in boosting market sentiment. After weathering recent tough liquidity conditions, banks need more liquidity, she added.
Keep up with the latest business news from the region with the Emirates Business 24|7 daily newsletter. To subscribe to the newsletter, please click here.
Follow Emirates 24|7 on Google News.