Abu Dhabi stands firm with local institutional support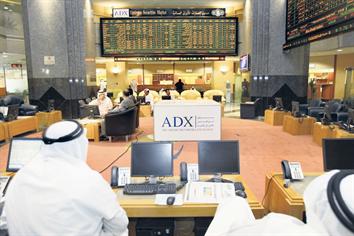 The Abu Dhabi Securities Exchange maintained its sideways trend yesterday, moving up and down in a limited range as the index added 24.59 points, or 1.09 per cent, to close at 2,274.60 points at a critical resistance level.

The level of 2,275 points is seen by analysts as a critical point for the ADX to consolidation in the short term.

Turnover continued at low levels, but advanced slightly as 138.1 million shares changed hands for a total value of Dh250.8 million. Real estate and energy stocks continued to dominate transactions in the market with Aldar, Sorouh, Ras Al Khaimah Cement, Dana and Aabar topping the active list by both volume and value.

However, telecommunications and banking sectors were the main players in the upward trend in the market after etisalat gained 1.98 per cent to close at Dh10.30 and National Bank of Abu Dhabi added 1.42 per cent to close at Dh8.60.

Local institutions are still holding the market firm by injecting more liquidity, building a gradual base for a stable long-term investment.

"There are increasing indicators that the liquidity in Abu Dhabi banks is improving, giving positive indicators in the market. Local institutions are injecting more liquidity in the ADX to consolidate the market, not to push the index higher. Such movements helped individual investors to reduce their loses in stocks and this is clear in the low fluctuations in the ADX index," said Hummam Al Shamaa, Financial Consultant at Al Fajr Securities.

"Speculators are staying away from the ADX because they cannot control the direction of stocks in the market and accordingly they cannot create high volatility in select stocks during the same session. Local institutions are taking their role of market makers seriously and stabilising the index, despite the general trend still being downward," Al Shamaa said.

However, Hosam Al Husseini, Head of Brokerage at Emaar Financial Services, predicted that a part of the high liquidity in the DFM would start moving to the ADX soon and this might create some volatility in the capital's market.
Follow Emirates 24|7 on Google News.