ADX advances 1.76 per cent as it keeps up rebound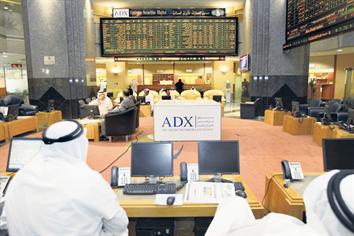 The Abu Dhabi Securities Exchange (ADX) continued its steady rebound for the fourth session at low turnovers.

The index advanced 38.97 points, or 1.76 per cent, to close at 2,252.60 points after yesterday's trading. It is getting closer to the important resistance level of 2,275.

Turnover advanced slightly as 126.3 million shares changed hands at a total value of Dh245.8 million. Twenty-two stocks advanced while seven declined and two remained unchanged during the session.

Real estate and energy stocks continued to dominate the turnover. Aldar and Sorouh accounted for 30 per cent of the total trade volume, the same level of Dana and Aabar. Taqa also advanced sharply by 7.92 per cent to close at Dh1.11. Strong buying was seen in Aldar, Sorouh, Taqa and Arkan. Local institutions continued to support the ADX with gradual increases in trade value by injecting more liquidity on selected stocks.

"There is no strong foreign liquidity entering the ADX. However, funds feel there are strong opportunities in the market and they are entering on cautious movements. There is conservative accumulation on Aldar and Sorouh stocks," said Ziad Dabbas, financial consultant at National Bank of Abu Dhabi.

He said the ADX was witnessing a period of calm and stable trading. "However, the movements on the DFM created some positive sentiment in the capital and encouraged more investors to enter the ADX. There is considerable active trading on increasing numbers of stocks. But the new liquidity is still focusing on selected stocks in the market."

Shiv Prakash, technical analyst at MAC Capital Advisors, said intraday trading on the ADX could be bullish if it stays above the pivot levels of 2,237, to see the resistance areas at 2,266-2,280 points.

"Local markets seem to have ignored the global trend and are facing value buying on lower levels in select stocks. We saw buying on Aldar, Sorouh and Taqa," he added.
Follow Emirates 24|7 on Google News.