ADX ends almost flat on calm trading; turnover advances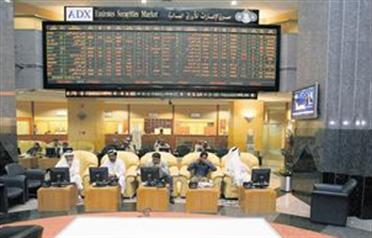 The Abu Dhabi Securities Exchange continued its pattern of calm trading yesterday as the index lost 17.64 points, or 0.78 per cent, to close at 2236.91 even though turnover advanced slightly.

The index hit its strong resistance level at 2,275 points during intraday trading but could not maintain its rally and declined by the end of the session under selling pressure on most active stocks, especially Aldar and Sorouh.

However the real estate and banking sectors continued to dominate trading, losing 1.45 and 4.92 per cent respectively. Invest Bank stock also declined by almost the limit down, 9.93 per cent, to close at Dh2.72 and this added to the market's negative sentiment.

This created strong pressure on the index throughout the session, but the energy and telecommunication sectors advanced by 1.42 and 0.50 per cent respectively to reduce the negative impact of the sharp decline in real estate companies.

Heavyweight Etisalat advanced slightly during the session but could not change the trend in the market. Other gainers including Aabar, which added 8.28 per cent to close at Dh 1.57, played a role in supporting the index.

The turnover continued to increase slightly as 169.8 million shares changed hands at a value of Dh175.3 million.

Analysts said increasing local liquidity was supporting the ADX and the trade value of selected stocks was increasing gradually. They stressed that the impact of foreign institutions was retreating while local investors were investing in selected stocks.

"There is no strong foreign liquidity entering the ADX," said Ziad Dabbas, a financial consultant at the National Bank of Abu Dhabi. "However, local funds feel there are strong opportunities in the market and they are entering on cautious movements.

"The ADX saw calm and stable trading. However, the movements at the DFM created some pressure on the ADX and we saw increasing selling in the market."

Analyst Wadhah Al Taha said: "Turnover is advancing at the ADX compared with previous sessions, which indicates that new liquidity is still coming to the market and targeting certain stocks. "However, there was increasing speculation on some stocks, especially Arkan and Invest Bank. Arkan fluctuated sharply during the session."
Follow Emirates 24|7 on Google News.