Arab bourses lose $217bn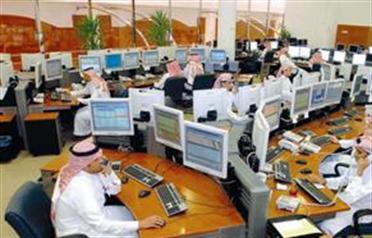 A sharp decline in Saudi Arabia depressed the value of traded shares in the Arab bourses by nearly $217 billion (Dh797bn) in 2008 despite a sharp rise in Abu Dhabi and other exchanges, official figures showed yesterday.

From around $1,108bn in 2007, the total value of shares traded in the Arab World's 15 official stock markets dived to nearly $891bn, showed the figures by the Abu Dhabi-based Arab Monetary Fund (AMF).

A sharp decline in Saudi Arabia's Tadawul, the largest and most speculative bourse in the Middle East, was the main cause for the lower turnover in the region's markets as many other exchanges recorded higher turnover.

Turnover in Saudi Arabia plunged from around $682bn in 2007 to nearly $483bn in 2008, one of its lowest levels in nearly five years.

Turnover in Kuwait's bourse also declined from around $130bn to $116bn while Dubai also tumbled from around $103bon to $69bn. The value of shares traded in Morocco's Casablanca bourse, one of the largest in the region, also dipped from nearly $22bn to $14bn.

In contrast, turnover in Abu Dhabi bourse surged from around $47bn to $61bn while Qatar's Doha Securities Market shot up from $29bn to $41bn. There were also increases in turnover in the remaining two GCC members Oman and Bahrain as well as in other Arab bourses.

The AMF figures showed the average daily turnover in the Arab stock markets declined from $4.45bn in 2007 to around $3.55bn in 2008 on the basis of 250 working days through the year.

Despite the decline, the ratio of traded shares in the Arab stock exchanges surged to nearly 110 per cent of their combined market capitalisation in 2008 from around 82 per cent in 2007, the report showed.

Saudi Arabia recorded the highest ratio of around 195 per cent, followed by Dubai at 107 per cent, Kuwait at 102 per cent and Abu Dhabi at 99 per cent. The ratio stood at 78 pent in Egypt, 75 per cent in Jordan, 53 per cent in Qatar, 51 per cent in Palestine, 22.4 per cent in Morocco and 22.3 per cent in Tunisia. The lowest ratio was recorded in Bahrain at 9.5 per cent.

The report showed the surge in the combined ratio was caused by a steep fall in the Arab bourses' collective market capitalisation, which plummeted from around $1,338bn at the end of 2007 to $891.9bn at the end of 2008, a loss of nearly $446bn through the year or a daily average of $1.78bn.

Gulf oil producers accounted for most of the market capitalisation decline, with Saudi Arabia alone collapsing by nearly $272bn from around $518bn to $246bn at the end of 2008, its lowest level in more than four years.

Dubai and Abu Dhabi tumbled from $138bn and $121bn to $65bn and $61bn respectively while Kuwait dipped from $135bn to $113bn. Qatar plunged from $95 billion to $76bn and the bourses of Oman and Bahrain from $23bn and $27bn to $15bn and $19bn.
Follow Emirates 24|7 on Google News.