Arabtec shines as most active in volatile market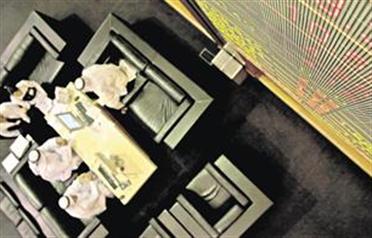 In a speculator's market, Arabtec Holdings stock has stolen the limelight over the past few trading sessions with massive trading volumes that have seen the stock price hit upper and lower limits regularly.

Almost all research has positioned Arabtec in the "buy" category with projected upsides ranging from 10 to more than 100 per cent on the current price Dh1.48.

"Strong local appetite for the Arabtec scrip is being seen in the market. This is mostly driven by retailers and foreign investors as well," Mohamed Galal, head of foreign institutional sales and trades at Al Futtaim HC Securities, told Emirates Business.

Research by Abu Dhabi Commercial Bank said: "The scrip has more than 15 per cent potential return. We recommend that investors buy the stock based on the annualised return over 6-24 months time horizon."

On the financial front, company's net profit in the fourth quarter of 2008 declined by 27.4 per cent. However, its cash balance stands at a healthy Dh1 billion and the stock is currently trading at an attractive price-to-earnings ratio of 1.87 times.

Beating analysts' expectations, Arabtec's revenue increased 125.7 per cent year-on-year to Dh9.6bn in 2008 helped by a strong order-book position. Net profit rose 76.6 per cent year-on-year to Dh945.6 million, slightly weaker than the forecast.

Net profit was impacted by provisions made against cancelled projects and mobilisation of resources for the Qatar project, particularly during the fourth quarter. Margins also experienced a downward pressure because of contractual renegotiations and delays.

"The order book totalled a healthy Dh39.2bn as of December 31, comprising a 30, 30 and 40 per cent mix of infrastructure, mixed use, and residential projects, respectively. The company stated that despite a recent series of project setbacks, particularly in Dubai, it expects 2009 revenue to be in line with 2008," the ADCB research said.

"The company also emphasised on the weak possibilities of winning further projects in the domestic market over the next two years, given current uncertainty regarding the newly conceived projects. Therefore, the company has started focusing on neighbouring markets such as Abu Dhabi, Qatar and Saudi Arabia to sustain growth.

"According to the management, Arabtec has a cash balance close to Dh1bn at the end of 2008, while total assets increased significantly from Dh4.8bn as of December 31, 2007, to Dh9.1bn at the end of 2008," the report said.

Going by its order book position, analysts predict that net profit will increase to Dh1,154.35m this year against the current Dh940.13m. This would take the earnings per share from Dh1.41 to Dh1.75.

The annual results announced this month beat industry expectations. Yesterday, Arabtec stock opened at Dh1.32 and touched a high of Dh1.51 and low of Dh1.30 before closing at Dh1.48 as against the previous close of Dh1.32.

The scrip's 52-week high is Dh9.83 and low is Dh0.76. The 52-week average daily volume is 18.6m shares and average daily value stands at Dh61.7m.

Arabtec's market capitalisation of Dh1,770.08m and current shares outstanding at 1,196m gives the scrip a broad scope of increased trading, analysts said. Its P/E ratio of 1.87 and P/BV of 1.04 make it attractive for short-term and medium-term gains, they said. Return on equity stands Dh55.92.

"There has been brisk trading seen in select stocks. This is because of speculation. Local and foreign investors are trying to book profit out of marginal buying and selling activity," said Hesham Bakry, institutional sales manager at Al Futtaim HC.
Follow Emirates 24|7 on Google News.