Asian stock markets slide on Wall St woes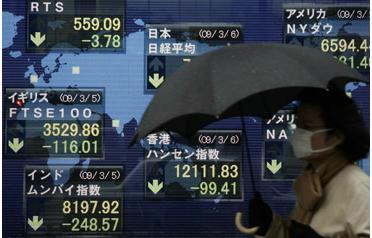 World stocks struck a six-year low as Japan's Nikkei average fell about 3 per cent in early trade, with shares in the country's big exporters and banks taking the hardest hit.
But most Asian equity markets held up better than their counterparts in the United States and Europe, thanks partly to hopes that China will boost its planned $585 billion in stimulus spending to help offset the damage from collapsing exports.
China's central bank chief, Zhou Xiaochuan, said on Friday that he sees signs of the economy recovering and officials would err on the side of acting sooner rather than later to revive growth in the world's third largest economy.
The dollar retreated and oil prices climbed in a slight reversal of Thursday's moves sparked by the stock market slide, while Japan's stock market woes pushed investors into safe-haven government bonds.
The MSCI index of Asia-Pacific stocks outside Japan was down 0.9 per cent. Australia's S&P/ASX 200 shed 1.7 per cent, while South Korea's KOSPI lost 0.6 per cent.
On Thursday, the US S&P 500 tumbled 4.3 per cent and Citigroup's share price fell below $1 at one point, becoming what's called a penny stock.
"If you see fire breaking out in someone else's house, it causes worries about your own, too. The latest development in the US corporate sector is very worrisome," said YS Rhoo, a market analyst at Hyundai Securities in Seoul.
The deepening sell-off in major stock markets came before the US payrolls report later in the day, which is expected to show companies slashed 648,000 jobs in February and take layoffs in the last four months to 2.4 million – more than double the number of jobs created altogether in 2007.
The unemployment rate is forecast to reach a 25-year high of 7.9 per cent.
The data follows the European Central Bank and Bank of England chopping interest rates to record lows on Thursday. The BoE went a step further, saying it will print money to buy 75 billion pounds worth of government bonds as central banks try to limit the damage from the financial crisis and sharpest recession in decades.
But Merrill Lynch analysts said in a research note that there were several signs that Asia's economies were starting to stabilise, including a recovery in Chinese manufacturing and Korean exports to China.
Highlighting the see-saw nature of Asia markets, the South Korean won – the most battered of regional currencies – recovered to post slight gains on the day after initially falling to an 11-year low.
DOLLAR DIPS, JGBS GAIN
The dollar index, a gauge of its performance against six major currencies, dipped 0.3 per cent to 88.841 but held near a three-year peak reached this week. Against the yen, the dollar was flat at 98.00 yen.
Oil prices also pushed higher after tumbling 4 percent on Thursday on worries about demand as the deep global recession drags on. US crude oil futures edged up 13 cents to $43.74 a barrel.
Safe-haven buying helped nudge the benchmark 10-year Japanese government bond yield down 2 basis points to 1.290 per cent.
But US Treasuries surrendered gains. The 10-year Treasury note fell 1132 in price to yield 2.852 per cent, up about 4 basis points from late US trade.
Gold eased slightly to $930.65 an ounce after rising more than 2 per cent in the previous session. 
Follow Emirates 24|7 on Google News.
Asia stocks slid on Friday after a warning from General Motors' that it may need to file for bankruptcy drove Wall Street shares to 12-year lows and highlighted the severe troubles of major US companies and banks.