Asian stocks gain on China hopes, but caution lingers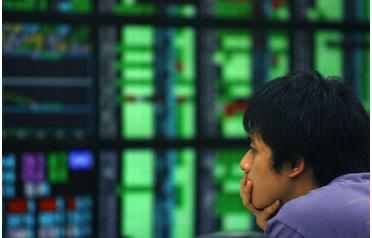 China's Premier Wen Jiabao said on Thursday that China will achieve 8 per cent growth this year – a level considered key to maintain employment growth in the country – despite the deepening global economic crisis.
Wen did not announce fresh economic stimulus as some investors had hoped, but his assurances helped extend a rally in Asian markets, after shares worldwide had surged on Wednesday on reports that China may increase its spending to spur growth.
Still, a sustained turnaround in global markets is unlikely until confidence in the US economy and its shaky banking sector can be restored, analysts said.
Investors have yet to part completely from safe-haven assets such as gold, which gained on Thursday. Oil prices dipped, paring a near 9 per cent rally in the prior session that had been spurred by an unexpected drop in US crude stocks and an increase in gasoline demand.
"We do need to see some more stability in the banking system in the US before we get a genuine rally on any market," said David Taylor, market analyst at CMC Markets.
Japan's Nikkei rose 2.4 per cent as shipping firms, exporters and machinery makers like Komatsu Ltd climbed on hopes Beijing will be able to kickstart the cooling Chinese economy.
The MSCI index for Asia-Pacific stocks outside Japan rose 0.2 per cent as of 0250 GMT, bringing its gains over the past three sessions to about 2 per cent.
Those gains are not even half the 4.3 per cent slump Asian stocks lost on Monday, when worries about the health of the global financial system sparked a global rout that saw US stocks slide to 12-year lows.
Australian shares rose 0.6 per cent as big mining firms jumped on hopes that a China recovery would spur demand for metals, while key indexes in Shanghai and Taiwan advanced 1-2 per cent.
But shares in South Korea and Hong Kong were flat, while Singapore lost 0.6 per cent.
Growing hopes that China will weather the downturn are being counter-balanced by more sobering news on the global economy.
Reports on Wednesday showed US employers cut nearly 700,000 jobs in February and the US service sector slump deepened as the year-old recession showed little sign of abating.
Elsewhere, Japanese firms' capital spending tumbled 17.3 per cent in October-December from the same period a year earlier, while the euro zone's dominant service sector sank still deeper into recession during February.
FOCUS ON ECB, BOE
The euro slipped ahead of the ECB meeting, with the central bank overwhelmingly expected to cut interest rates by half a percentage point to 1.5 per cent in a bid to revive the sputtering euro-zone economy.
The focus instead is for signals on where the rate floor lies as euro zone policy makers seem reluctant to follow the US Federal Reserve and the Bank of Japan in going towards zero.
The euro fell 0.4 per cent from late US trade to $1.2614 after at one point on Wednesday dropping below $1.25 to strike its lowest levels since late November.
The euro slipped 0.3 per cent against the yen to 125.18 yen
Sterling was down 0.3 per cent at $1.4149 The Bank of England is expected to cut interest rates by 50 basis points to 0.5 per cent later on Thursday and announce it will start boosting the money supply to spur economic growth.
Commodity prices were broadly lower to steady after rallying on Wednesday, due in part to optimism that a reviving China will spur stronger demand for oil and other raw materials.
US crude prices fell 43 cents to $44.95 a barrel, paring gains of $3.73 on Wednesday.
Though assets seen as safer in volatile times have ceded ground recently, investors have yet to exit these positions in big numbers as gloomy economic news continues to flood in.
Spot gold gained about $6 to $912.30 an ounce, recovering after prices for the precious metal had fallen in the eight previous sessions to hit a three-week low on Wednesday.
WHAT DO YOU THINK?  Is China's bullish outlook sufficient to sustain market rally across Asia? Have your say by posting a comment below, or emailing us at online@business24-7.ae.
Follow Emirates 24|7 on Google News.
Asian stocks extended gains on Thursday on hopes that a revival in China will support the weak global economy, while the euro fell on expectations the European Central Bank will cut rates to an all-time low later in the day.