Asian stocks lose ground as euro falls on Russia deal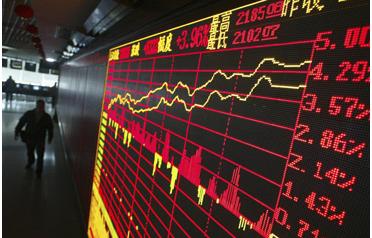 Russia will request negotiations with European and other foreign banks to postpone repayment on up to $400 billion (Dh1.5 trillion) of its private-sector debt, Japan's Nikkei business daily said on Tuesday.
The report, which could not be immediately confirmed, sent the euro tumbling 1.2 per cent to $1.2849 and 1.6 per cent to ¥117.08 yen before it clawed slightly higher again.
US stock futures initially fell over 1 per cent after CNBC, quoting what it said was a source familiar with the plan, initially reported that the US Treasury has dropped plans to establish a "bad bank" to buy distressed assets from commercial banks as part of a financial rescue package.
CNBC later said the plan would include a new form of "bad bank", using public and private funds.
While such a plan would remove soured assets which are contaminating banks' balance sheets, freeing them up to lend again, the expected use of taxpayers' money and fears of further losses have made the issue highly politically charged for President Barack Obama.
"Even if the 'bad bank' won't be set up, some sort of entity to deal with problem assets will likely be established in the end," said Masaru Hamasaki, a senior strategist at Toyota Asset Management.
"If that entity proves to be effective, the market will gradually evaluate it favourably."
Wall Street finished flat on Monday as traders' anxiety grew after the announcement of the bank plan was postponed by one day until 11am (1600 GMT) on Tuesday. The nervousness helped erase early gains in Asian markets.
An $838 billion economic stimulus bill passed a key procedural hurdle in the US Senate on Monday, paving the way for the chamber to pass the bill on Tuesday. But then final negotiations must begin with the House of Representatives – whose own bill is priced at $819 billion – on a compromise bill.
Dow Jones industrial stock futures were down 0.9 per cent and S&P stock futures had lost 1.1 per cent, a sign that Wall Street may fall.
Japan's Nikkei share average edged up 0.2 per cent, paring earlier gains that saw it rise over 1 per cent.
Nissan Motor Co surged 7.3 per cent after it announced drastic steps on Monday to cope with the recession, saying it would cut 20,000 jobs. It joined a growing list of automakers warning of red ink this year.
The MSCI index of Asia-Pacific stocks outside Japan fell 0.9 per cent.
Hong Kong's Hang Seng was up 0.3 per cent after extending gains on Monday to its longest rally in two months, while shares on the Shanghai bourse were flat amid questions about the sustainability of a recent bull run in Chinese markets.
RUSSIA WOES
The media report on Russia quoted a Russian banking official as saying up to $400 billion in debt was at stake.
A proposal for postponing repayment has been submitted to the government and some foreign banks have already agreed to start negotiations, the Nikkei said.
The Australian dollar retreated from three-week highs struck offshore after reports on the US "bad bank" plan suggested investors may end up disappointed, with a gloomy business confidence survey also weighing.
The yield on the benchmark 10-year US Treasury note edged up slightly to 2.99916 per cent after US Treasury debt prices fell on Monday, taking benchmark yields to their highest levels in over two months.
Japanese government bond futures edged down 0.1 per cent to 138.47.
Oil prices rose to near $40 a barrel, paring the previous day's 1.5 per cent decline, after getting a boost from Opec talk of more production cuts and hopes that a US economic package would be passed by Congress this week.
Gold eased, extending the previous day's fall of almost 2 per cent. The yellow metal was trading at $894.40 an ounce at 0024 GMT, down $0.60 from New York's notional close on Monday. 
Follow Emirates 24|7 on Google News.
Asian stocks pared gains on Tuesday as doubts grew about US plans to create a bank to soak up toxic debts, while the euro fell over 1 per cent against the yen and the dollar on a report that Russia is set to request a delay in repaying debt.