Australia extends short-selling ban on financials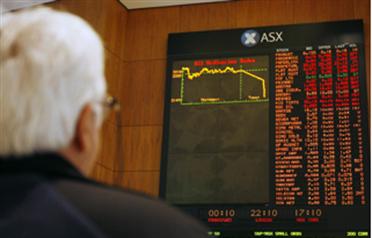 Australia extended a ban on short-selling of financial stocks on Thursday by almost three months, citing weak markets and defying offshore regulators who have concluded that such bans only make matters worse.
The Australian Securities and Investments Commission (ASIC) said it would extend its ban until May 31 in a decision that had been widely expected given recent attacks on the share prices of local banks, especially investment bank Macquarie Group. Macquarie shares jumped as much as 4.7 per cent immediately after the news, but quickly gave up those gains. "ASIC has decided to continue with its cautious approach and keep the ban in place," the commission said in a statement. "Any possible loss of market efficiency or price discovery as the result of the continuation of the ban is justified given the current market circumstances," it added.
Traders use short-selling to profit from falling prices. They borrow shares from other investors, then sell them in the hope they will fall in price and can be bought back at a lower price. Australia first banned short-selling in September after British, US and some European markets did the same. Since then, British and US regulators have lifted those bans and concluded they had only hurt market liquidity.
Australia lifted its ban on non-financial stocks in November but extended it on financial stocks, including property trusts and conglomerate Wesfarmers, which has an insurance arm. "It's creating big distortions in the market," said Paul Fiani, managing director of Integrity Investment Management.
The regulator is effectively forcing short sellers to focus on the 60 per cent of the market not covered by the ban, he said. "So some stocks get beaten up more than they otherwise would and take the pain on behalf of the ones that are protected."
Despite the ban, Australian bank shares have continued to tumble, with hedge funds accusing the local regulator of pursuing a ban that had failed both here and elsewhere. "If the goal was to stop share prices from going down, it has conspicuously failed," said Tom Elliott, managing director of hedge fund MM&E Capital.
The Investment and Financial Services Association, which represents Australia's funds management industry, also believes the ban appears to have backfired. "There's not an awful lot of evidence pointing to the fact that the ban on short selling is actually stabilising the market for financial sector companies," said association deputy chief John O'Shaughnessy. "In fact, most of the evidence is weighted the other way."
Macquarie, one of Australia's most adventurous banks with infrastructure investments worldwide, has lost more than half its value since the short-selling ban was introduced.
The four biggest Australian banks - National Australia Bank (NAB), Commonwealth Bank, Westpac and ANZ - have also been sold down heavily despite the ban, and fell further on Thursday. Like Macquarie, these four stocks also received only a fleeting or minor boost from Thursday's decision: NAB, Commonwealth and Westpac were marginally higher in morning trade while ANZ was the strongest gainer, up 1.2 per cent.
The financial sector sub-index has lost about 38 per cent since the start of October, compared with a roughly 30 per cent fall in the benchmark S&P/ASX 200 index. The ban's latest extension means short-selling of financial stocks will be prohibited until at least after the local banks, including Macquarie, have reported their next set of earnings.
WHAT DO YOU THINK?  Should Australia extend the ban? Have your say by posting a comment below, or emailing us at online@business24-7.ae.
Follow Emirates 24|7 on Google News.