Bakeries risk fines for not reducing prices of items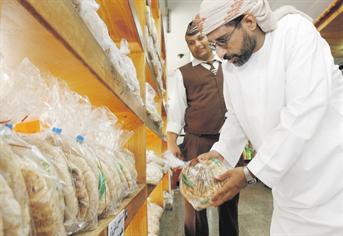 Bakeries in several emirates are risking fines by failing to obey a Ministry of Economy order to cut prices of Arabic bread, khuboos, samona rolls, cakes and other items.

They say they are reluctant to reduce prices because local wheat flour wholesalers have not reduced their charges in line with the sharp fall in food commodity costs in the global market.

Bread prices rose by 20 per cent to 30 per cent in 2007 and 2008 when raw material prices soared to record levels. But now the costs of wheat flour, edible oils and dairy products have fallen substantially, as have prices of diesel and cooking gas.

"All bakeries in Sharjah and Ajman were called in for meetings with the economic departments in January to discuss proposals for price reductions," said Tamim Ahmed, General Manager of a leading bakery in Northern Emirates.

"Similar discussions are under way in Dubai. There is no deadline to reduce the prices of khuboos, samona, Arabic bread, finger rolls, cakes, biscuits and other products, though the departments have told us to cut prices as early as possible.

"But the full benefit of reduced commodity prices in the international market has not been passed on to bakeries. We are still getting flour at the previous price as big companies in Dubai, Sharjah and Abu Dhabi have not reduced prices in line with the reduction on the commodity market."

He said the ministry wanted bakeries to reduce the price of khuboos from Dh2.50 to Dh2 for a packet of six. The price of wheat has fallen from $500 (Dh1,840) to $250 per tonne on the international commodity market. But the bakeries say they have yet to benefit from the reduction because the price they pay has fallen only slightly.

Bakeries in Abu Dhabi and Al Ain can buy subsidised wheat at Dh70 for 50kg but wheat flour sold by leading companies in Sharjah, Ajman, Fujairah and Dubai costs Dh116 per bag – just Dh14 down from the October price.

A salesman at the Dubai-based Modern Bakery told Emirates Business: "There is a plan to reduce prices from March 1. Other bakeries will follow suit."

However, an official spokesman for the company refused to comment when asked about plans to cut prices. "Ask the Ministry of Economy about prices, we cannot give details," he said. Other large bakeries also refused to comment.

The bakeries increased the prices of products sold in groceries, supermarkets, cafeterias and restaurants over the past two years to avoid going out of business.

The cost of raw materials such as flour, sugar, milk powder, eggs, edible oil and packaging rose by more than 150 per cent and bakeries also faced much higher prices for rent and fuel. Before then the price of bakery products had not risen for almost 30 years.

The bakeries say only the prices of flour and oil have fallen in recent months. Small companies are suffering because business is already down due to the slowdown and reducing price would affect their viability.

Saify Mamoowala, Materials Manager at Masterbaker Marketing International of Dubai, which distributes bakery food ingredients and dairy products, said: "We supply ingredients imported from Europe to many bakeries here. The price of these products depends on the value of the euro and the commodity market. As commodity prices have come down we have passed on the benefit to customers because of the intense competition. The price of a 25kg packet of butter has come down from Dh490 to Dh400. Similarly a 12-litre carton of bakery cream has come down from Dh155 to Dh125. Bakeries are getting the benefit.

"If traders who keep old stock purchased at high prices don't slash their prices, players who have imported ingredients at lower prices will capture the market."
Follow Emirates 24|7 on Google News.