China-US trade war aggravates on duties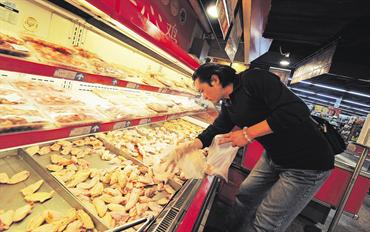 China has said it will impose heavy anti-dumping duties on US chicken parts, a move likely to aggravate trade ties between two of the world's most important economies at a time of strained political relations.

The Chinese Commerce Ministry's initial investigation showed that US companies had dumped chicken products into the Chinese market, according to the ministry's website.

The preliminary tariffs were announced a day after Beijing requested a World Trade Organisation (WTO) ruling on European Union duties on shoes made in China in the latest case demonstrating China's use of the WTO to keep markets open to the exports on which it depends.

The United States Trade Representative (USTR) was muted in its response, saying it would consult US producers as it analysed China's move.

"USTR is following the investigation closely, and we will want to ensure that China follows the applicable WTO rules," spokeswoman Carol Guthrie said in a statement. But the USA Poultry & Egg Export Council said the American poultry industry was "deeply disappointed" by China's move.

The tariff decision disregarded facts provided by producers and "will virtually eliminate US chicken exports to China for the foreseeable future", the lobby group said in a statement.

"We are hopeful that if Chinese officials study our submissions in greater detail, they will conclude that US chicken products were, in fact, not dumped," said USApeec President Jim Sumner.

The US?and China are embroiled in a series of economic and political disputes, ranging from the value of the Chinese currency to internet control, Taiwan and Tibet.

President Barack Obama last week vowed to get tough in dealing with complaints that US exports are disadvantaged by China's artificially cheap yuan, drawing a sharp rebuke from China that its currency was set at "reasonable" levels.
Keep up with the latest business news from the region with the Emirates Business 24|7 daily newsletter. To subscribe to the newsletter, please click here.
Follow Emirates 24|7 on Google News.