Demand for gold rises 26% in Q4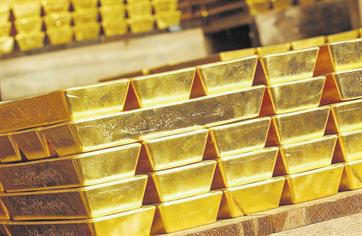 Gold demand rose 26 per cent in the fourth quarter as investors bought the precious metal as a store of value amid a worsening global economy, the producer-funded World Gold Council said.

Demand rose to 1,036.5 metric tonnes from 821.8 tonnes a year earlier, the London-based council said in a report. So-called identifiable investment, which includes purchases through exchange-traded funds and of bars and coins, almost tripled to 399 tonnes. Jewellery and industrial consumption fell as the recession eroded purchasing power. Supply rose five per cent.

"The biggest gain has been the retail investment side," said Rozanna Wozniak, the council's investment research manager. "It's a reflection of uncertainty. Gold's role as a safe haven is coming through."

Investors are seeking to protect their wealth with physical gold as the global economy worsens and central banks spend trillions of dollars to combat the worst financial crisis since the Great Depression. Assets in three of the industry's largest exchange-traded funds are at all-time highs, while national mints are selling out coins.

Bullion averaged $798.84 an ounce in the fourth quarter, compared with $789.31 a year earlier. The metal reached a seven-month high of $974.32 an ounce yesterday and traded at $963.93 by 11am in London. Gold, which has gained in each of the past eight years, is up 9.3 per cent this year.

The S&P GSCI Index of 24 raw materials plunged 44 per cent in the quarter, compared with a 1.3 per cent increase in gold. Full-year demand rose 3.8 per cent to 3,658.6 tonnes, or $101.8 billion (Dh373bn), the council said. Fourth-quarter demand climbed to $26.5bn.

Retail purchases accounted for most of the increase in investment demand, surging almost fivefold in the quarter to 304 tonnes, according to the report, which used figures compiled by London-based consultant GFMS Ltd. European bar and coin consumption soared to 114 tonnes, from nine tonnes the previous year.

"There have been bar and coin shortages around the world," Wozniak said.

"Physical gold has no default risk and there's no counterparty risk. People need an insurance policy in place all the time."

Holdings in ETF Securities' gold exchange-traded commodities rose to a record seven million ounces as of February 13. The SPDR Gold Trust, the biggest ETF backed by the metal, expanded to 1,008.8 metric tonnes (32.4 million ounces), closing in on Switzerland as the world's sixth-largest gold holding. Zuercher Kantonalbank's fund has record assets of 3.734 million ounces.

"The economic downturn and uncertainty in the global markets is unlikely to abate in the short term," Aram Shishmanian, chief executive officer of the WGC, said in the report. "Gold will continue to play a vital role in providing stability to both household and professional investors around the world."

While the global downturn has boosted investment demand, jewellery consumption declined six per cent to 538.9 tonnes as bullion climbed to a record in many currencies, the WGC said.
Follow Emirates 24|7 on Google News.