DFM sees high turnover on back of encouraging results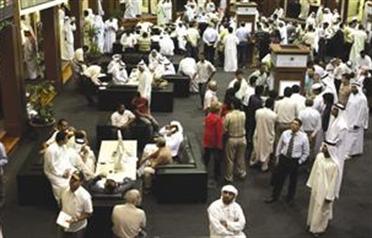 Encouraging results by key companies and short covering by institutional investors yesterday drove the Dubai Financial Market (DFM) to its highest turnover since January 5.

More than 454.5 million shares were traded on the DFM for a total value of Dh506.4 million. This is more than double the number of shares traded on the bourse on Monday.

Key companies Arabtec and du this week announced encouraging annual results.

The contracting company posted a 77 per cent increase in profit in spite of challenging economic and property market conditions. The telecoms operator announced its first ever profit.

An unconfirmed rumour that an international bank is ready to invest about Dh300 million in UAE also boosted market sentiment.

"Such rumours coupled with positive corporate results helped market sentiment," said Vyas Jayabhanu, head of Al Dhafra Financial.

"Moreover, financial results were not as bad as expected. The market was anticipated some dip in corporate revenues during the last quarter of 2008. Contrary to these expectations, the results buoyed sentiment."

Analysts said the market is in the short-sold position and massive covering at the current low prices boosted volumes in key stocks.

However, Senior Financial Analyst Wadah Al Taha said: "It's too early to judge whether we can attribute the jump in trading to short-covering transactions.

"We have seen 26 per cent of total traded volume in Arabtec and 19 per cent in Emaar. These two scrips account for 45 per cent of total trading. So it may not be short covering as it was not margin trading," he said.

Predicting a correction next week, analysts said yesterday's rise in volumes would be short-lived as other global cues and upcoming corporate results would influence trading volumes.

"I think it is not going to take much to start a short-term rally in the UAE of at least 10 per cent," said Matthew Wakeman, Managing Director of Cash and Equity Linked Trading at investment bank EFG-Hermes.

"The renewed interest could spark this on hopes that the government is tackling the slowdown head-on and speculation that it will do what is necessary to keep growth robust.

"However, banana skins for any rally will be further delays on the US stimulus and bank bailout and also knee-jerk reactions to Emaar's upcoming results. What is clear is that volatility is with us for a while given the low prices of stocks currently," Wakeman said.

Ayman Al Saheb of Darahem Financial Brokerage said: "Encouraged by the government's measures to boost the economy, some people want to infuse confidence into the market. We expect a further rally after the first-quarter results, because only then will a clear picture of the market's direction emerge.

"What I see from [yesterday's] trading was that volume almost tripled, but the index has not gone up substantially. Anyhow, with the dividend payout period nearing, investors are positive about the future direction," Al Saheb said.

Does this positive move infuse fresh buying interest in GCC markets, which have been reeling under global economic crisis pressure for more than a month.

Kuwait-based Global Investment House said in a report yesterday that the absence of encouraging news on the economic front and further deepening of global financial crisis, GCC markets continued their downward journey in January.

The only market that managed a rise was Saudi Arabia with a month-on-month gain of 0.1 per cent.

"Global markets are heading lower ahead of what is the biggest news flow day for US markets so far this year. Fed Secretary Geithner will outline details of the bank bailout plan [see Page 8] and later the Senate will vote on the stimulus plan," said Wakeman.

"As expected, Arabtec is regaining buying interest at these levels after its results were good enough to highlight how oversold the stock is. Volume on Arabtec has picked up significantly in recent sessions as investors speculate that downside is limited at these levels and a short term correction may be seen," said Wakeman.
Follow Emirates 24|7 on Google News.